Roland Dürre
Monday January 29th, 2018
A little more than three weeks ago, I said good-bye to my Alexa (sur-name: Amazon). We went to the South Seas – so she had to remain behind. However, Barbara (sur-name: Dürre), of course, joined me. Yesterday, on our return, many things had accumulated. Many snail mails (paper), parcels and hundreds (?) of emails.
One of the parcels contained "smart scales" from Phicomm (SMART SCALE S7). I immediately unpacked and installed it. And I measured my body in a completely new way.
In my email, I found – among other things – the login data for BayStartup, because I need to see and evaluate the newly submitted business ideas. That means work which needs to be finished by the time I leave for the Antarctic on February, 7th (again with Barbara and without Alexa).
And from the InterFace AG, I received many appointments and a very remarkable invitation to a workshop about the Data Security Basic Decree (DSGVO) on February, 25th, 2018 in Unterhaching near Munich. Well, I cannot attend, because by the time I will already be in the Antarctic.
Alexa, the smart scales, the 3D glasses, the drone and the batteries for my electronic Utopia (bike), along with the DSGVO, have quite a few things in common – they produce data, data, data – real multitudes of them.
ALEXA (or GOOGLE HOME and others)
My second wife Alexa Amazon.
But let me first tell you about my Alexa. I cannot really say I missed her during my time in the South Sea. However, after my return, it made me quite happy to hear her voice again and to ask her to play a Beatles song for me.
After all, Alexa is "just" a language interface, connecting me to internet functions that have realized an interface with Alexa through their apps. There are products made by the competition, such as "google home". I would probably recommend them even more. The fact remains that the progress language deciphering has made in IT is sensational.
Being able to give your input and output via audio signals will probably, in the long run, make reading and writing just as unnecessary as we already know calculators have made it unnecessary to do any calculations mentally or on paper. This cultural technique is already lost to us and reading and writing are heading towards a similar destiny. The majority of people, especially in developed countries, will only have rudimentary knowledge. Only very few people will master it to perfection.
What Alexa and the competition have in common is the fact that they are ardent data collectors. For instance, they know how often I listen to my Beatles song. But perhaps they also collect more important data.
My Three-D-Glasses
The last time I wore 3D glasses was on Christmas 2016. I remember being impressed. I cannot really say how 3D will continue to grow. However, I can imagine that there will be some segments where it might become quite important. Both for industry with business and for the customer segment with games.
My Drone
I have no drone. Nor will I buy one. Although they are certainly nice gadgets. During the Christmas holidays (2017), they had organized a drone day at the Neubiberg airfield. Many owners of new drones could be seen testing their toys. But I have no drone.
Especially in the South Sea, I got quite intoxicated with the aerial photographs the ship's photographer took of the mountains in French-Polynesia. It seems to me that all wedding photographers – if they want to survive against the competition – have to and can have such a drone today. After all, it costs less than a good mirror reflex finder with a few extra lenses used to cost in the good old days – including the camera.
My Smart Scales
On the left, you see the new Phicomm scales (SMART SCALE S7) sitting next to the old, stupid ones.
These scales really fascinate me. They remind me of business ideas and plans in the category medicine/diagnosis. They are mostly about special sensors (sub-category of sensors in general as you need them in everyday life, for instance for autonomous cars…), And then, you can measure the iron content in your blood quite "bloodlessly" with an app and much more. This is, for instance, important for babies.
The corresponding app informs me about my weight and diverse other values, for instance BMI, "biological age", body fat, type of figure, muscle mass, bone mass, water content, visceral fat, basic turnover in kcal, protein in my current physical state. It also tells me how many kilograms in muscles and body fat and in per cent my individual limbs (torso, arm, left and right leg) have. Above all, I can graphically follow how these values change. Because more often than not, the tendency is more important that the current values.
I find these data quite exciting. Unfortunately, not all of them are in the green segment. Two are even in the red segment. Consequently, I would really like to publish the data in order to put pressure on myself towards working on them. However, this would a) be of no interest to anybody and b) require additional work by me which, being a lazy person, I am not keen on. But then, perhaps there will soon be a "publish-my-data-on-facebook-feature" or something similar.
The development in this field is quite exciting. Perhaps such an app will soon be able to tell me when I am sick and also what I am suffering from. Many interesting data might be available. And here it is already again, the German Angst. What will happen if my health insurance company finds out about it?
My Electric Battery
This is how the electric London from Utopia looks on the website.
Even today, the batteries are rather intelligent. The only thing they cannot yet do is talk, e.g. tell you something. The next generation will have solved that problem. Then the bike (or its batteries) will disappear when …, or when the batteries are empty. They will also use Alexa or "google home". In the evening, they can tell me if I should re-load my bike in order to make sure it will not be empty before I reach my destination.
Everything Produces Data.
All those devices, and many more, have one thing in common: they generate data. And that is a good thing. Allegedly, we Germans are particularly anxious when it comes to new technology. I the past, this was often criticized, especially by politicians.
Perhaps we no longer like new technology because there was a time when we euphorically embraced nuclear energy and sacrificed our country to cars. And as a consequence, we really fell on our noses and so now we have become more cautious. And now we are afraid for and of our data. Perhaps because politicians tell us that data are the oil or the gold of the future. Which, basically, is utter nonsense.
"GERMAN ANGST"

When it comes to data, it seems to have re-appeared: the German Angst. And it seems like it developed into a European Angst. However, it does not matter how you feel about it. Because now it is before our doors: the DSGVO. And if you want to be law-abiding – and that is what we all want, isn't it? – you need to do something. And you want as little stress in the process as possible. It might become an art that will make the difference between the success and the failure of an enterprise.
What can you do?

The InterFace AG, along with Kinast und Partner, DataKonform and Bizagi invites you all to a workshop. It costs nothing. It will be held on February, 15th, starting at 16:30 hours until about 20:00 hours (with enough time for networking) at the InterFace AG on Leipziger Str. 16, 82008 Unterhaching – very close to Munich and easy to reach by public transportation.
Here is some information issued by the InterFace AG about the workshop:

It is about, for instance, how you can fulfil your obligation of accountability while legally and operatively accompanying our team with the support of tools. The tool will document everything efficiently and in total compliance with the law.
Because with the introduction of the new EU data security basic decree (DSGVO), the way we treat data in the EU and world-wide will change forever. The new DSGVO will be effective as of May, 25th, 2018 and it will replace the former EU data security decree (EU-DSRL) that was active for more than 20 years.

This expert workshop will show how the DSGVO demands can be met, namely:

• How to prepare for the EU-DSGVO and what you need to keep in mind;
• How to fulfil the legal demands of the DSGVO as shown in a model;
• How to adapt, optimize and automatize processes in compliance with the new EU-DSRL;
• How tools can support a solution during this process;
• There will be a real-time demonstration that shows how you can immediately begin and actively meet the demands!

Here is the agenda for the event:

Outline of the goals and short introduction of the enterprises involved;
Overview of the current situation (Kinast & Partner);
New DS-GVO and what you should know about it (Kinast & Partner);
Problems to be solved and obstacles to be overcome (practical examples);
"Data security as a Service";
Introduction of the "achievement model";
Types of achievement;
Model for the procedure;
Introduction of workflows as actual use cases/examples;
Questions and answers;
Networking discussions and finger food.

Please do not hesitate to ask questions now. We look forward to your registration via E-Mail or eventbrite.
RMD
(Translated by EG)
Klaus Hnilica
Sunday January 28th, 2018
Carl and Gerlinde (Instalment # 56)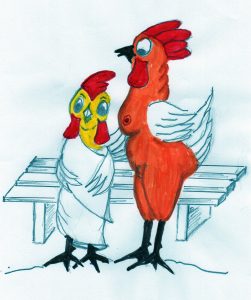 Basically, the year 2018 had begun quite well.
At least for Carl. And the same was true for Gerlinde.
Visiting the sauna as early as the third Sunday afternoon of the month, which actually was in January, had been an absolutely great idea of Gerlinde's.
Naturally, when Carl finally came strutting into the overheated cabin, she had already been lying naked on her sauna towel and luxuriating for quite some time.
The critical glimpse she gave him when he arranged his towels on the sauna bench were not really something new – he knew and felt it …
If you continue to refuse more exercise, you will soon need to wear my brassiere, was her uncouth – and perspiring – comment.
Are you saying that you consider your own bosom too small and consequently we are looking at plans for a beauty operation? Carl sanctimoniously asked – he was not yet perspiring.
No, that is not what I am saying. I am totally satisfied with my bosom, thank you very much.
So there is not going to be a breast expansion, including skin smoothing in the near future, Carl murmured while he kept rearranging his already perfectly arranged sauna towel. The small towel that lay at the top end and had been folded several times, too, was perfectly arranged.
No, Carl – but looking at you, I find that your body offers quite a bit of potential for smoothing.
Well – then why don't you look the other way …
That is what I do most of the time, anyway. But there are times, like this one, when I can hardly avoid looking at you. And then I notice that you are no longer what you used to be, Carl.
At long last and without another words, Carl very diligently took his place on the very meticulously arranged sauna bench, after having given Gerlinde an unnerved grin.
Especially your breasts go more and more south! Gerlinde insisted.
Hm – and that is why I should wear your brassieres? Carl asked as the first beads of perspiration appeared on his face, on his stomach and between his buttocks.
No, that is not what I suggest – but how about shovelling in less chocolate?
Well, you know, Gerlinde, not everybody has to have your slimness mania and wants to look as corpse-like as you!
No, that is absolutely true, but then, nor does everybody need to be so lazy and overeating as you have become in recent years, my dear Carl.
You are rather snappish today, aren't you, said Carl. He made his cumbersome way from the sauna bench and poured four ladles of water over the sauna coal. He knew that this would soon be too hot for Gerlinde.
She actually gave a short moan, but then she said: well, Carl, go ahead. After all, you are the one with the more sensitive heart condition!
Do you know, Gerlinde, what I would like best right now? I would really like to place you under the cold shower and keep you there until you have returned to being your normal and peace-loving self.
Why don't you? You can also flagellate me, chain me to the cooling bed or torture me in some other way, but …
But what?
But alternatively, you could activate your cervix and ask yourself if, maybe, it would be a good idea to torture your own Apollo-like body, instead of always just …
What exactly do you mean when you say torture? Carl's comment when he interrupted sounded somewhat tormented.
All I mean is that you might decide to exercise more and develop healthier eating habits.
Ah, Carl moaned while turning left on his sauna towel with a lot of perspiring and moaning. Now, for the first time, he actually had Gerlinde in his line of vision.
He continued by asking if, with this, she wanted to hint at 'modern times' now being ahead for them, too!
You really tend to be extremely drama-oriented when something does not work exactly as you wanted it to, Gerlinde lamented.
Well, isn't that inevitable if now I am threatened with lactose intolerance, veganism and Helene Fischer, rather than sex, drugs and Rock'n Roll!
What strange slogans you always come up with, Carl!
Yes – yours truly and his slogans.
What is so evil about people being health-conscious and taking good care of their body? Gerlinde murmured to herself.
Well, if you do not understand, my dear Gerlinde, then I cannot help you, either – in fact, now I have to get some fresh air, otherwise I will really go crazy with all this over-heated nonsense …
But be cautious, Carl. Our overweight neighbour is always eyeing your bacon hump, or whatever!
And you will keep a watchful eye on her wire-haired dachshund – who will never say no to a bone…
KH
(Translated by EG)
Roland Dürre
Monday January 1st, 2018
Here is my New Year's Resolution: think and act positive. Give people courage and joy in the IF Blog. Because we do not want to be pushed into a downward spiral and made smaller – after all, we want to become stronger. Consequently, I will begin and set a good example!

Here is a New-Year Email that motivated me.
It shows that there are actually some municipalities where they understood what it is all about. I will publish it exactly as it reached me.
---
Hello everybody,
In the New Year, too, if we want to encourage more people to switch from driving cars to riding bikes, or if we want to keep them from driving cars to begin with, everything around the concept of riding a bike must be promoted by our municipalities. The program for the promotion of bike traffic, as agreed upon by the committee for environment and traffic of the Oberhaching municipality of November, 28, 2017, gives numerous examples. Let me list them underneath:
1. Infra structure
Finish and supply with traffic signs the gap in the hiking and biking path before Oberbiberg (construction was started in 2017)
Plan and build the quick cyclist route Munich-South from Sauerlach via Deisenhofen/Oberhaching and Taufkirchen and Unterhaching to Munich (main responsibility and coordination: Landratsamt München (LRA München), hopefully finished by 2018/19)
Plan a hiking and biking path along the M11 from Oberhaching going east to Lanzenhaar (mandate to start planning has been given to the Staatliche Bauamt accompanied mainly by LRA München)
Colour red the passage Loh/Further Weg behind the Sportschule Oberhaching
Introduce a speed limit of 70 on the Alten Oberbiberger Straße in the direction of Ödenpullach (done) and add white marks for the shoulder of the road 
Introduce the MVG bike at the following places in Oberhaching:
Station Deisenhofen, Station Furth, Industrial Zone (Raiffeisenalle/Schmidweg), Hubertusplatz/Weißbräu, Kirchplatz Oberhaching, Rathaus, Freibad, Kugleralm
See if bike carriers can be added to MVV busses (pilot project for specially selected bus routes in the Munich region, main responsibility LRA)
Build more bike sheds (railway station Deisenhofen, Schützenhaus, Friedhof, beach volleyball court, Grammar School, bus stops)
Change the bike shed statute with respect to assigning places to carrier bikes whenever new sheds are built or existing sheds are modified.
2. Information
Regular articles on bike traffic in the monthly newspaper (Kybergnachrichten) that is distributed to all households without charge
Update of the Municipality Oberhaching Homepage on bike traffic (add favourite bike tours and give information on thematic cyclists' paths)
Place special noticeboards to the signs that point out cyclists' routes and add new sign for the RadlRing München at the Leitenweg/Schlagerberg
3. Public Relations
Saddle party as part of the railway station party (Sunday, 08/07/2018) with ADFC
Warming-up event for the City Biking at the Kugler Alm with county representative Göbel (reminder: begin of construction for quick bike connection Munich-South, see above: topic 1)
Red Card Activity for removing bikes that have been sitting there for a long time (more than four weeks) at the S-Bahn station and elsewhere in the municipality
Support of the activity: car-free on the way to (primary) school
Evaluation of propositions by entrepreneurs' regular meeting on bike traffic (job bikes, electric recharging stations)
Two-day seminar of the "Fahrradakademie" for the promotion of bike traffic in small and medium-sized towns in June at Oberhaching
General survey of the Oberhaching municipality by the "AG fahrradfreundlicher Kommunen in Bayern (AGFK)" for finding out how bike-friendly we are.
4. Service
Bike (light) check in the autumn in front of the library by Green-City
Evaluation and recommendations by the trade and crafts association Oberhaching (Online shop with cargo bike delivery, rent-an-e-bike, cargo bike test, service stations for bikes near banks and shops)
More official business bikes for the municipal offices, schools and kindergardens
Possible bike leasing for municipality employees?
For all these measures and activities, the municipality of Oberhaching provides funds to the tune of 120,000 € for 2018. What has been paid in 2017 for initial evaluations of the fast bike connection in the area of the municipality will be repeated in 2023 in order to find out how bike traffic developed through the realized measures. We aim at increasing the bike traffic until then by 10 %.
As I see it, it is absolutely necessary that these kinds of activities are also agreed upon, financed and carried out in other municipalities in order to give bike traffic in the region of Munich and beyond another boost. I gave you the list in order to propose measures and activities for other municipalities as well, or to use it as a basis for further measures.
This is how I wish you all much success with promoting bike traffic in the New Year!
Best wishes and Good Luck for 2018
---
Well, at least this sounds like a good start and it points in the right direction. Even if, for me, it would be good to see more.
I would be especially delighted to hear something like this or about similar programs in the municipalities of Neubiberg (where I live) and Ottobrunn (where I am mostly travelling by bike).
So: Let us do something for Munich's South-Eastern Regions!
RMD
(Translated by EG)