Klaus Hnilica
Monday August 13th, 2018
Hi
Carl and Gerlinde (Instalment # 59)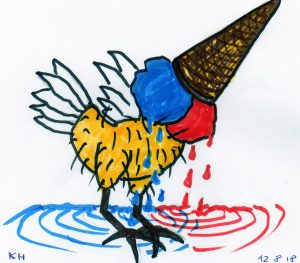 By the way, Gerlinde, when I accidentally met our friend Kurt last Tuesday at REWE, he told me – under the pledge of secrecy – that, regardless of his considerable age, he will separate from Hannelore if, like in the previous years, she insists as stubbornly as she always did that we again book our next summer vacation together, Carl said at 22.20 hours when the temperature was still 28 degrees Celsius directly in front of the ice bar. This must have been the eighteenth time he wiped over his forehead with the same paper napkin.
Mind you, he added while steering Gerlinde towards the interior of the parlour, the nightmare was basically due to the word 'together' as Kurt had put it while simultaneously, with the usual anxious nodding of his head, he had stacked ten cartons of 'Philadelphia Cheddar' into his trolley.
Because his lamentable experiences last year between October and the end of the year regarding this year's summer vacation was decidedly over the top, even if said top were that of a huge pregnant dairy cow, Kurt had said as they stood in the middle of the air-conditioned food area at REWE!
Since, however, neither Gerlinde nor Carl were able to decide spontaneously which of the numerous unoccupied tables to take in the neon-yellow sub-tropically warm ice-cream parlour – which was wide open at the front towards the street -, Carl shortly interrupted his report about Kurt's confidential separation revelation while meandering from one table to the next until Gerlinde flung herself on a chair at the very back of the establishment and declared with a moan: it will be either here or I will suffer a break down on the spot!
Carl raised his eyebrows in disappointment but then – still dripping with perspiration – , after having joined Gerlinde and in the process almost having toppled over the neighbouring table, said that Kurt had talked about 34 travel brochures from five different travel agencies. Hannelore had forced him to work through all of them meticulously, along with making him to listen to 18 presentations in various adult education centres and libraries about travelling through Patagonia and diverse pole regions, through Australia and New Zealand, doing a desert safari and three different round-the-world-trips, as well as four meditation courses in Austrian and Greek convents. And all of it just because Hannelore could not make up her mind about what sort of vacation she wanted in which region of the world…
Gerlinde – holding the open ice-cream menu and pointing at a vanilla ice-cream fruit cup with plenty of cream with her right, almost stiff, index finger – said that she was not really surprised by this lament of Kurt's. In fact, she, too, had already noticed that Hannelore seemed to become more and more indecisive as she grew older!
Since this was already the third time the waiter asked for their order, Gerlinde finally, with a threatening look at Carl, ordered her fruit ice-cream cup while Carl, although sitting in front of the several-page long ice-cream menu, was not yet ready to order more than a bottle of sparkling mineral water. Beyond that, he asked for a little patience as far as his ice-cream order was concerned and told Gerlinde that, when they were talking about this 'monstrous vacation choice procedure' at REWE, Kurt had, above all, been angry with Hannelore because they were now, as a result of all this tedious work, starting a two-week trip to Portugal. To be precise: to a wellness hotel in the Algarve, where currently you had to endure 42 degrees Celsius in the shade and there were already forest fires twenty kilometres away that looked like they were never going to end …
Great – was Gerlinde's laconic reply, before she took pity on the desperate waiter and ordered a CARLOS I (which was the least she could do) while Carl now at long last started to really get involved with the 'ice-cream varieties' on the menu. Without giving the waiting steward a single glance, he told Gerlinde that, basically, his order was very easy. After all, he only wanted three balls of ice-cream without anything on it and consequently the only thing about which to make up his mind was the choice between dark and light chocolate, or about vanilla, hazel nut, stracciatella, strawberry, yoghurt, latte macchiato, cream-cherry, mango, maracuja, lemon, banana, pomegranate, raspberry, dragon fruit, bounty, cream grit, cinnamon, raffaelo, and seaberry- chinaberry! Nothing could be easier than that, which he found really hilarious..
But since the waiter still stood before him like a vengeful deity, he said, to the surprise of everybody, that he wanted an espresso.
Double – or single?, the waiter asked.
No – but maybe two balls of vanilla ice-cream after all, Carl said.
So: vanilla ice-cream!, the waiter typed it into his gadget.
No – just bring me a CARLOS I like the one Gerlinde has ordered.
And when, at long last, the incompetent waiter had left, Carl noted with a sour face that, for the first time, he now really pitied Kurt: because if he had a partner who was as indecisive as Hannelore, he would probably go crazy every single day of the year. With these words, he pushed the ice-cream menu towards Gerlinde with satisfaction. Gerlinde got up without a word and left.
Hopefully, she was only washing her hands?
KH
(Translated by EG)
Roland Dürre
Saturday August 11th, 2018
I have been part of the "Forum Agile Verwaltung | Austausch und kollegiale Beratung" (a closed facebook group) for many years. I enjoy it very much and learn a lot. Now there was a call to all members of the group asking them to introduce themselves. It was my pleasure to reply to the call. Here is my contribution:
---
In this group, I feel that I am a guest who can get his first input on interesting topics and both listen carefully and learn. I became part of this forum because I was once invited to give a presentation on the "Unpredictability of the Future" in the forum.
About me: after my university studies of mathematics (major) and computer science (minor) at Munich Technical University that started in 1969, I became a programmer. After some apprentice years at Siemens AG and Softlab GmbH I founded my own company, the InterFace AG, in the early 1980ies with Wolf Geldmacher . During a PM camp, I met and learned to appreciate Thomas Michl.
Thanks to our product CLOU/HIT, we (InterFace) won many customers from the public office sector (police and county jurisdiction, the Central Employment Agency, and many more federal and county offices). And we learned a lot in the process.
During the development phase of CLOU/HIT, it did not take us long to understand that a customer-oriented development of complex software products will no longer work with "old concepts", which is why we replaced "hierarchically organized groups" by "networking teams". At the time, this was revolutionary and extremely successful.
Today, I am no longer operatively active. Instead, I now limit my involvement to handing my experience (knowledge and expertise) on, mostly to younger persons. Some of them are individual persons, others are teams (start-ups).
I try to avoid giving advice (an advice is also a vice). Instead, I try to inspire people and generate impulses. And I try to find good (the right) questions in mutual agreement with all the parties concerned. Because a good question is the requirement for a good answer.
My goal is mainly to make other people, and especially young people, more successful and happier.
---
I think this is a concise description of what I currently do.
RMD
(Translated by EG)