Klaus Wäschle
Friday May 15th, 2009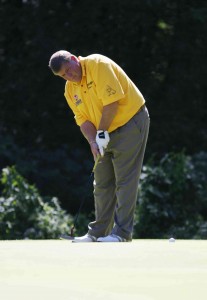 Last week, the final results of two international golf tournaments caused an uproar and plenty of consternation. In Florida, at The Players Championship, Alex Cejka – whose home of choice is Munich and who at the time was leading by five hits – lost his lead and ended up on position number 9.
At the BMW Italian Opens, John Daly from the USA ended up second, even though he has no qualification at all for participating in international professional tournaments and has to depend on invitations. After this, both golf insiders and the interested public – sometimes failing to understand – keep asking: how could that have happened?
Klaus Wäschle
Monday August 11th, 2008
Did you, too, watch the first round of the DFB cup this weekend? I followed it from Friday through Sunday, including the FC Bayern match at Erfurt – and, of course, it reminded me of the match 43 years ago. In those days, there were also some sensational – or almost sensational – results during the cup tournaments. Do you also remember? It was the 16th of January 1965, and the Swabians met SV Schalke 04 in the "Rosenaustadion".
Of course, the boys with their national players and stars Hans Nowak, Friedel Rausch, Willi Schulz ("Weltcup Willi"), Reinhold "Stan" Libuda, Günther Herrmann or Willi Koslowski were expected to win. They were challenged by the Swabian "cracks" Georg "Schorsch" Mögele, Josef Mayer, Alfred Beyerle, Ferdl Schneider, Georg Schmid, Werner Sterzik, Horst Blechinger, Harry Sieber, Wolfgang Koubek, Hans Aurnhammer – und Kurt Haseneder. He was the man of the match who shot four goals.
mehr »
Klaus Wäschle
Friday August 8th, 2008
Here it is – just in time for the opening ceremony of the Olympic Games in Peking:
The first article by our sports expert Klaus J. Wäschle:
Let me say one thing up front: I collect opening ceremonies of Olympic Games. Of course, I mean videos of the ceremonies, and both those of the summer and winter games. I am capable of watching them again and again and the producer's ideas appeal to me. The shows of some artists are just as fascinating as the outfits of some athletes. In my opinion, the two most memorable ceremonies were those in Barcelona and Sydney.