Klaus Hnilica
Tuesday June 19th, 2018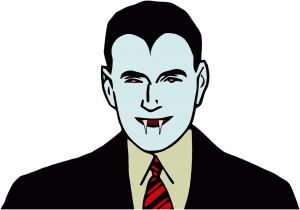 Ever since a new British study has found out that the progressive digitalization also offers massive advantages and totally new perspectives in this field, there is a new urgency to the question: To what extent vampires can actually be integrated?
Mind you, it was not the old and ancient protagonists who initiated this revolution. It is yet again the often so scolded youth who make the decisive steps towards this 'young future that cuts the edges': they are the ones who not only talk about digitalization, which is what any second-class provincial politician does these days, but who also actually live digitalization!
Yes, it is the 'generation smart-phone' who, in the 21st century and totally surprisingly and unplanned, restore a tiny bit of freedom to the vampires by letting them return to free biting!
After all – and you want to be honest about this – there is nothing more suitable for the direct and unhindered bite of a vampire than the naked and exposed little neck of a fifteen-year-old female smart-phone user who is fascinated by what she sees on her screen. And I mean all the time: on the street, in the train, on her bike, on the toilet and while doing her homework.
There is definitely nothing, absolutely nothing more suitable!
And this suitability for quick access is, naturally, not only true for the aforementioned fifteen-year-old girl, but also for all smart-phone users, regardless of their age and the colour of their skin: when they act as mentioned above, all these persons remain in the exact same position, with exactly identical 'bite invitations to their jugular' in front of their device. In fact, the author of the British study I mentioned before even assumes that the inventor of the smart-phone must have had or have a 'vampire background'. This assumption becomes even more of a probability since all the smart-phone users are so fixated on their devices that they not only fail to notice the quick bite into their jugular, but also never even realize how they have been sucked out afterwards!
They are actually so immersed in their smart-phone world that they are not available for any other observation: the first time they actually often start yelling and getting aggressive is when – due to some unfortunate mistake – blood drips on their screens, because that is when they start soiling their own screens as they wipe around with their own blood on their fingers!
This is one of the reasons why leading vampires in business and politics started several years ago to vehemently demand from companies such as Apply, Samsung and Nokia to come up with the 'blood-absorbing screen' at long last! After all, such a modification is absolutely necessary unless you want to carelessly miss this unique opportunity of integrating vampires into society: and I mean all vampires! This includes the less dexterous ones – those who, when they bite, sometimes cause a drop or two to fall where it should not!
It goes without saying that the sector data security, too, needs massive modifications: it happens quite frequently that smart-phone users take pictures of vampires while they feed on blood and then immediately send the pictures to the smart-phones of those who have been bitten!
This is often the moment when those who have been bitten actually realize that they are currently donating blood – and since they see it on their smart-phones, they also believe it. Their reaction is that they often start hectic defence movements – which might then again cause unnecessary extra blood loss.
Consequently, what we need immediately is legislative initiatives with a 'filming ban on blood feeds'. And these initiatives cannot be national solos but have to be coordinated on EU and UNO level. Basically, this should not be too much of a problem if all parties concerned mean the same blood and refrain from overeager bloody comments.
Another problem is probably far harder to solve.
What I mean is the bite into the 'wrinkled neck of an older person' – which, as the aforementioned British study shows, is something some of the vampires also favour.
Luckily, these few 'connoisseurs' will also find enough older smart-phone users today – even if their enthusiasm and stamina are nowhere near what we have with the young generation. That is something that does not really make quick bites easier!
But when all is said and done, this is not the central problem! The real problem is that, even if the bite on the 'far-from-fresh wrinkled neck' is a success, the blood you get there tastes like a wine-soda mixture that contains one eighth of Riesling and one litre of soda water!
Which is nothing. Well, it is less than nothing!
That is because today practically all older people get huge amounts of expensive blood thinners from all their doctors and health insurances: this is certainly a good thing for the pharmaceutical industry and for the blood-thinned elderly people – but for vampires, it is a pure nightmare!
And I am not just talking the taste, but also the amount you need: due to this practice, vampires are not only forced to swallow immense amounts of blood, but also to visit the toilet all the time in order to get rid of all the water. This will quite often cause individual blockage situations at public toilets! Humans who suffer from weak bladders are those who will suffer most in the end!
Taking all these aspects into consideration, it can be said that much remains to be done before vampires enjoy the same paradise-like state of affairs in Germany that, according to our Federal Chancellor, the rest of the citizens can boast of!
But if the problems that still need to be solved are at long last tackled by politics without prejudices and without further loss of precious time, and if the entire society refuses to have a rising blood pressure because of all these concepts, then the integration advantages offering themselves through more digitalization – as shown by the British study – will soon be realized. Especially if measures are taken to make sure that blood will always remain thicker than any wine-soda mixture, because otherwise the elderly people will cause unacceptably long blood trails in their wake after each vampire bite. And said blood trails will then again cause massive data security problems, which certainly nobody can want; after all, we all know that there is nothing vampires want more than a chance to, at long last, have their blood feed undisturbed and in peace.
That is really all they want!
K.H.
(Translated by EG)
Klaus Hnilica
Thursday October 12th, 2017
Carl and Gerlinde (Instalment #54)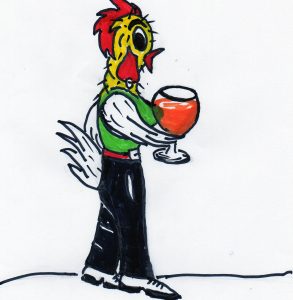 "Waiter – please bring a double cognac as fast as possible …!",  Carl cried out excitedly while he was literally gulping air …
"Under way", groaned the waiter while hurrying along his table. Thick drops of perspiration were building on his broad forehead.
"Whatever is the matter with you, Carl? Is it really necessary that you start filling up on cognac this early in the morning, when morning has hardly broken?", Gerlinde irritably asked while taking a small sip of her freshly pressed orange juice with a worried expression on her face.
"Fear thee not, Gerlinde, I only need something really stiff to digest the news I am just reading in the paper here!"
"So – what sort of news is it?" Gerlinde asked with raised eyebrows.

"Just imagine, the king of Saudi-Arabia and his very ambitions sun Mohamed bin Salam actually now, in the 21st century, want to allow women to drive cars!"
"How come?"
"Well – starting on June 2018 – women in Saudi-Arabia will be permitted behind the wheel of a car even without the consent of their husbands. Isn't that absolutely maniac?".
"Great! But as I know these brothers, there will certainly be some foul exhortation idea behind the deal… "
"Perhaps – but before you judge them too quickly, my dear, maybe we should remember that in Germany, too, the husband had the exclusive right to say what his wife and children should do until 1958."
"Hm – great! But at least the women did not have to wear veils, did they"?
"No, they did not have to do that – but even if men allowed their wives to work, they were the ones who decided what happened with the incomes!"
"Super – that is what pimps still do for their sidewalk birds, isn't it? ".
"Correct. The world is still as it should be in this patriarchal milieu!"
"It seems to me that you really need more cognac, Carl! If you are under the influence of alcohol, you definitely do not talk quite as much nonsense …"
"Yes, but only because I mostly go to sleep immediately! But where is this incompetent waiter now with my medicine?"
"Perhaps the waitress is quicker", said Gerlinde. She jumped up and set a not-bad-looking young waitress onto the path of the dreamy waiter.
"And besides, if their husbands had not consented", Carl, who obviously now knew no peace, continued, "women were not allowed to open their own bank accounts until 1962. How does that strike you?"
"There you see, my dear Carl, that is exactly why I absolutely do not wish to marry. I certainly would not want that to happen to me!"
"However, my dearest Gerlinde, this precaution is not necessary, because ever since 1969, every married woman in Germany is fully contractually capable."
"Wow – that means everything really went at breath-taking speed with respect to the emancipation of the females – I am sure the CSU was the absolute pacemaker …"
"You mocker", Carl smirked. He was still waiting for his cognac and getting more and more impatient …
"You are really poorly off with your cognac, Carl! In the meantime, would you like to take a sip of my orange juice? …"
"Excuse me! Has the day come when we men can no longer even drink our own cognac ?…"
"Carl, I will soon break out in tears"!
"Yes, please do – because otherwise I will have to do it", Carl moaned.
"But there is truly no reason for you to do that, my dear Carl – with the exception that your cognac does not arrive, you men have no reason at all to lament, do you?"
"Oh – oh – and what about the 'Female Federal Chancellor Forever'; she is not only Honecker's Late Revenge but also the Revenge of all Women Against Men for suffered wrongs!"
"As always, you are exaggerating, Carl!"
"I am not exaggerating at all, because the 'Female Federal Chancellor Forever' would even be elected by all the women and elderly persons if she were 'a mounted specimen'  …"
"You know, instead of talking such nonsense, you probably had better get your own house in order "!
"Why is that..?"
"Why don't you look at all the 'male specimens' – for example the wonderful Herrn Schulz – or the kissing Herrn Junker – or the divine Mr. Trump – along with the grinning Kim Jong Un – or the eternal Bavarian drooling Herrn Seehofer… or – or – or … compared to those honourable gentlemen, even a 'preserved specimen of the Female Chancellor' looks like an improvement to me …"
"Well, unfortunately, and as an exception to the rule – and very reluctantly – I have to agree with you, dear Gerlinde: the guild of men currently active is really a unique example for the word pitiful!"
"There you see, Carl …"! – when Gerlinde said this she had enough tact to suppress all display of triumph!
"But still, God has mercy on us men, Gerlinde: because at long last, my very dearly craved cognac is arriving!"
In fact, the friendly waitress suddenly came scuffling from nowhere and placed a huge brandy balloon – into which Carl might actually have jumped directly – in front of him under a thousand apologies and manoeuvres for the endless waiting time. And before Gerlinde could look around properly, his head actually already hung in the balloon up to his neck…
This was the only possible explanation for the fact that Carl, immediately after the cute waitress had vanished as picturesquely as a gazelle, could come up with the dry statement that, regardless of all currently felt superiority of the females, nobody could seriously doubt that even this lovely waitress was still moving on a pair of 'waiting upper legs'  …so why would we need a superiority complex? When all was said and done, women were, like in all times, basically just 'a piece cut out of man', weren't they?
KH
(Translated by EG)
Hans Bonfigt
Thursday May 26th, 2016