Roland Dürre
Saturday August 5th, 2017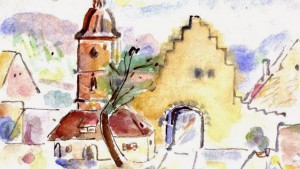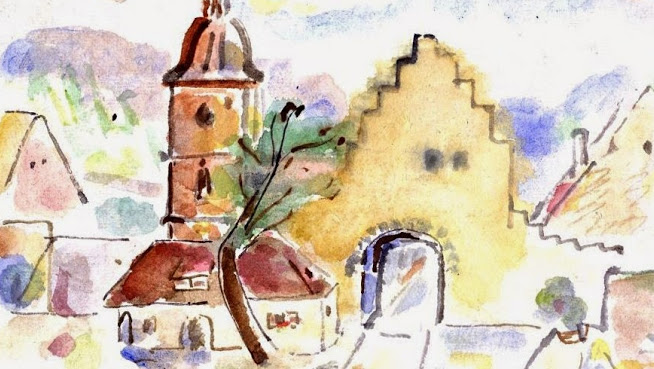 On Thursday, August, 2rd, I went to a debut performance at the Sommerhausen Torturmtheater. Currently, they are playing a piece by  Philipp Löhle. The title is "Der Wind macht das Fähnchen".
This time around, four female actors play on the small Torturmtheater stage: Judith Riehl, Nadia Schwienbacher, Christian Buse and David Lindermeier. Other active persons were Oliver Zimmer as the director and, of course, the great Angelika Relin, without whom this entire enterprise would not even exist.
---
Visiting the Sommerhausen Torturmtheater.
---
And Barbara and yours truly enjoyed the privilege of being present at the debut performance. We very much enjoyed a special performance. It was an evening as it will never return and it made me truly happy.
You cannot miss this performance. It will (only!) run until September, 30th, which means you already want to plan your trip to Sommerhausen. Here is the pre-view:
---
"Here it is, my whole pride" – the family. An experiment for the brave? 
In the year nineteen-hundred-and-some-uneven, when the world was still a better place, the story begins. Father, mother, son and daughter can be seen smiling in fast-motion as snapshots are taken at the breakfast table or during the Italy vacation. However, the bourgeois image is tricky, because as soon as hard times come, nobody stands up for the other. The family, too, depends on economic ups and downs. Everything collapses when father miscalculates the future of the modern "internetwork" and – consistently – gives notice. And it is this of all consistent acts he hands down to his son for life at the moment of truth.  
After crisis and separation, there is re-unification and new family portraits, seemingly in total harmony, but the idyll now has cracks. Irreparable cracks.
---
I had already been fascinated by the last play I had watched: "Eine Sommernacht". Now it was even better – if that is possible. There is always great theatre at the Sommerhausen Torturmtheater. "Das Fähnchen" is an exciting comedy with plenty of whit and intrigue!
---
It was a great theatre evening.
---
The beautiful conclusion of a wonderful day we had spent on our bikes. After approximately a hundred kilometres on our bikes on our way from Klingenberg to Sommerhausen, along the river Main with a few shortcuts through rolling hills, we arrived at Sommerhausen late in the afternoon. There was still time for refreshments and relaxing. And half an hour before the comedy started, we arrived at the Torturmtheater.
---
Some theatre before the theatre performance.
---
We enjoyed the always impressive theatre foyer and were looking forward to the performance. It was not altogether by force (it was not really necessary to listen carefully) that I listened to a conversation between a middle-aged gentleman (perhaps between forty and fifty) and an elderly couple (perhaps between sixty and seventy, with the lady not really saying anything, instead only reproachfully looking at her husband). For me, it was like a "small private theatre before the real theatre started"!
It was a dispute where the younger gentleman kept noisily finding it outrageous how the church behaved and what special rights that were no longer acceptable it took for granted. The other person tried to speak in defence of the church in a softer voice.
The younger gentleman criticized the church tax as a consequence of the concordat that seems to have been first installed in the 1930ies after negotiations with the Nazis. He found it annoying that leading church managers, like cardinals and bishops, get paid by the state.
The other gentleman pointed out that, after all, the church was socially very active with good deeds and that this was probably worth the price the state pays. Then the older gentleman said that the protestant church was probably better than the Catholic church. The younger gentleman countered that the protestant church actually made quite a huge profit with the Diakonie. And it continued in that manner.
Then the younger one found it lamentable that children had three hours of religious instruction at school where they were indoctrinated. The older one defended this system by claiming that school, basically, was not just there to teach knowledge, but also to give young people values. None of it was really high-level, the arguments were the same as always and nothing new. Not really exciting. Not even the values.
(After all, in my opinion, introducing values is actually part of teaching knowledge. But then, I learned a long time ago not to become an active participant in these kinds of discussions).
So I started thinking about the experiences I myself had had with the church. That reminded me of my friend and teacher Rupert Lay. I learned so much from him, above all that I have to appreciate my own qualities and take myself seriously. And that I have to be an autonomous person who is not easily manipulated.
---
The Jesuit Rupert Lay.
---
Rupert's goal in life was to be there for the poorest of the poor. However, for him, that were not only the homeless and those who were ostracized from society. In his opinion, especially top managers belonged in this category. Which is probably correct. For me, it is hard to imagine any other profession (with the possible exception of pastors) where you have so many crazy people as among the directors of the German and international concerns. Sorry, but when I say "crazy", I mean people who suffer from massive psychic illness and disorders.
Rupert Lay was mostly concerned with managers who had stayed sane. The "sick ones" were sorted out during his preparatory seminars. They never were allowed to attend his advanced seminars. After all, they would probably only have been a nuisance and would not have understood anything.
The really expensive fees you had to pay for Rupert Lay's seminars were all transferred to his order, the Jesuits. And since Rupert Lay generally structured his activities to look like pastoral care, the tax office did not benefit either. At the time, some civil servants at the tax office found this extremely unfair, but apparently even they could not win against the power of the churches.
---
Heinrich Henckel von Donnersmark – Stage Name: Augustinus – and Rupert Lay.
---
I was also reminded of Father Augustinus, whose secular name was Henckel von Donnersmark. He was a baron. I knew him as well and liked him very much. Even though Rupert Lay was a Jesuit while Augustinus was a Premonstratensian Chorister. Both of them were the protagonists for ethics in business. I rather liked that. They were important counsellors of German top people in industry and politics. And they also made a good name for themselves as excellent speakers and management trainers.
Rupert Lay saw the system church a lot more critical than the "nice" Augustinus. Consequently, we (the Ronneburger Kreis) invited them to Frankfurt for a dispute. And we were quite surprised, because in the end there was far too much harmony. Basically, they kept telling the opponent that he was right.
For me, Augustinus was the best orator I ever knew. I well remember one of his presentations in Wiesbaden in the 1990ies for ICL – at the time a relevant IT producer from Great Britain. He had introduced himself as manager of "the enterprise Catholic Church" and described his role as that of the "lobbyist of the most powerful and oldest enterprise of the world". Quite some self-irony.
---
Churches talk about peace and love.
---
On the other hand, the presentation also gave me an insight about myself that I see confirmed to this day. The church is an enterprise that has peace and love written all over its statutes. Quasi as Marketing. They have been doing this for more than 2,000 years. In all these years, it thrived with this message and became really rich and perhaps also powerful. I find it extremely sad that, in all those 2,000 years, it never managed (and perhaps never even wanted) to make the world a little more peaceful and love-oriented. On the contrary: to this day, the Catholic Church, along with its competition on the market, cause the opposite of peace and love: war and hatred.
Consequently, that was the time when I first understood that I do not wish to associate myself with a system like the church. Nor will I say more about it.
Just like I will never again vote for CDU/CSU because they are the reason why we had re-armament in Germany. The same is true for the SPD and the Green Party. I will not vote for these parties because they broke an important taboo when they allowed fighting missions abroad for the 'German Armed Forces.
Basically, everything is quite simple:
RMD
(Translated by EG)
P.S.
And if you want to go to Sommerhausen by train, you want to look for the railway station of Winterhausen. From the Winterhausen station, it is only one kilometre to the theatre on foot..
Roland Dürre
Sunday March 27th, 2016
And the piece was rehearsed at Unterhaching in the InterFace building!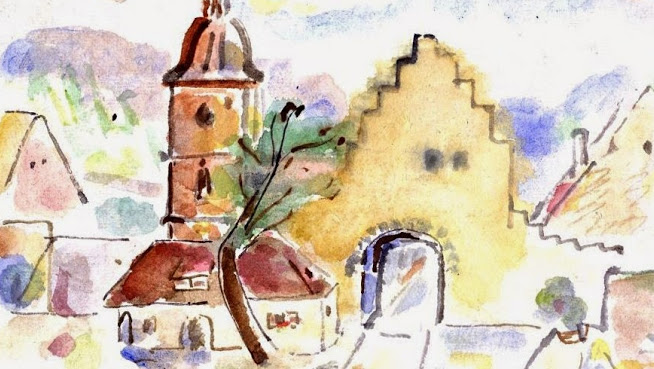 This year, the Torturmtheater will be forty years old. The very first performance they give in this jubilee-season is going to be one that was rehearsed in Unterhaching. It makes me very happy to say so. The Torturmtheater has now finished some of its productions after intense work at the Unterhaching InterFace AG building for some years. The reason is obvious: most of the active members of the drama group often reside in the Munich area and it is quite hard to find appropriate rooms for rehearsals in Munich. The performances are always in the traditional Sommerhausen Torturm.
If you remember: in 1976, after the death of Luigi Malipiero, Veit Relin re-opened this very small and yet so wonderful theatre in Sommerhausen (very close to Würzburg), establishing its reputation beyond the region through premiere and first performances of a high standard and with exceptional playlists.
The 2016 season at the Torturmtheater will be a German debut performance:
A pornographic relationship by Philippe Blasband. The German debut will be on Wednesday, March, 30th, at 8 p.m. Under the directorship of the inimitable Eos Schopohl, the characters will be played by Zhanna Kalantay and Murali Perumal. As always, the responsibility for the choice of play, the accessories and much more is with Angelika Relin.
Love is a strange game. Yes, they loved each other. Regardless of the fact that, initially, they only wanted the fulfilment of their lust and preferences – she had put the advertisement in the classified section. They know nothing about each other; nameless, they are protected by anonymity. That is also true for protection against each other. The uncomfortable everyday-life details are absent, which gives them freedom. But soon they find out that they love each other. In fact, it might turn out to be the love of their lives …
At the decisive moment, however, they lack the courage. Eventually, all that is left to them is the bitter-sweet memory of a chance gone by and, above all, the memory of a passionate love.
With this story of a couple who did not want to be a couple, Philippe Blasband successfully created a wise and erotic intimate play full of sensitive comic elements.
Here is what Angelika Relin writes in her pre-view of the year 2016:
We will start in the spring, on March, 30th, with a German debut performance – A Pornographic Relationship! It is a melancholic love story, not devoid of comic elements, certainly intense … 
(See what I wrote above).
Later, we will try to fathom the very normal mania of our consumer society today and put it in a nutshell. The very title: If I did it in another way I would probably not always think of the money involved is so highly scurrile that you absolutely have to become curious. It is an evening you do not wish to miss under any circumstances – shrill, bizarre and endlessly comical, even if the strange everyday-life truths themselves basically create sad clowns.
The summer can actually be said to point directly to the Achilles Heel of our democracy that puts a rift through the middle of our society – and the same is true for our protagonists on stage: those two couples representing the middle classes and getting closer to each other as neighbours in jealous cordiality. When, one night, Barbara gives asylum to a refugee, the prosperity anxieties and the fascination with the unknown clash unhindered in this bitter-evil farce. All the parties concerned drown in the ups and downs of faked humanity with raven-black humour. We are not barbarians is the message they have to accept, even if their laughter gets stuck in their throats.
In the autumn, The Farewell Dinner will upset your diaphragm by trying to set the idea of friendship ad absurdum with its perfidious morals. But, as so often in life, everything will turn out differently …
Well, so far the message of the year 2016 by Angelika Relin. Click here for the playing schedule (Spielplan)!
As has been my habit for many years, I will go and see all the four performances in 2016 whenever possible. This is not only because it is very great theatre, but also because it is a chance for Barbara and me to make very nice trips to Sommerhausen. Unfortunately, I cannot see the premiere performance of "the pornographic relationship", because I will still be in China at the time. But I already bought two tickets for the performance on April, 16th. And it would make me happy to see some faces I know!
RMD
(Translated by EG)
P.S.
If you want to go to Sommerhausen, the best thing to do is take the regional express train to Winterhausen, which is right on the opposite side of the river Main. From the Winterhausen railway station, you walk across the Main Bridge to the theatre, which is about one kilometre. You will want to exit the train at the rear end if it is headed towards Würzburg.
Roland Dürre
Sunday October 18th, 2015
Today, I do a little advertising for the Torturmtheater in Sommerhausen.
Between October, 8th and December, 20th, 2015, they perform a wonderful play – always between Tuesdays and Fridays at 8 p.m., on Saturdays at 4.30 p.m. and 7 p.m. and additionally on the advent Sundays, also at 4.30 p.m. and 7 p.m..
The name of the play is:

Our Woman

and it is by


Eric Assous

Directed by Christine Neuberger, the cast are 
Joachim Bauer, Alexander Diepold and Armin Hägele.
"Our Women" is a piece with not a single women playing in it. And yet, women are (more than) omnipresent.
The head of the Torturmtheater is Angelika Relin. Again and again, she manages to bring great plays onto the small stage. I was lucky enough to be present at the premiere performance on October, 8th – and it was again wonderful. Consequently, I can only recommend the short overnight vacation to the theatre, if you spend the night at Sommerhausen. And here is a secret for you: the best way to get there is by train to Winterhausen. From there, you only have to walk 800 metres across the river Main bridge until you reach the small Sommerhausen theatre.
Here are a few pictures that show the immense dynamics of the play.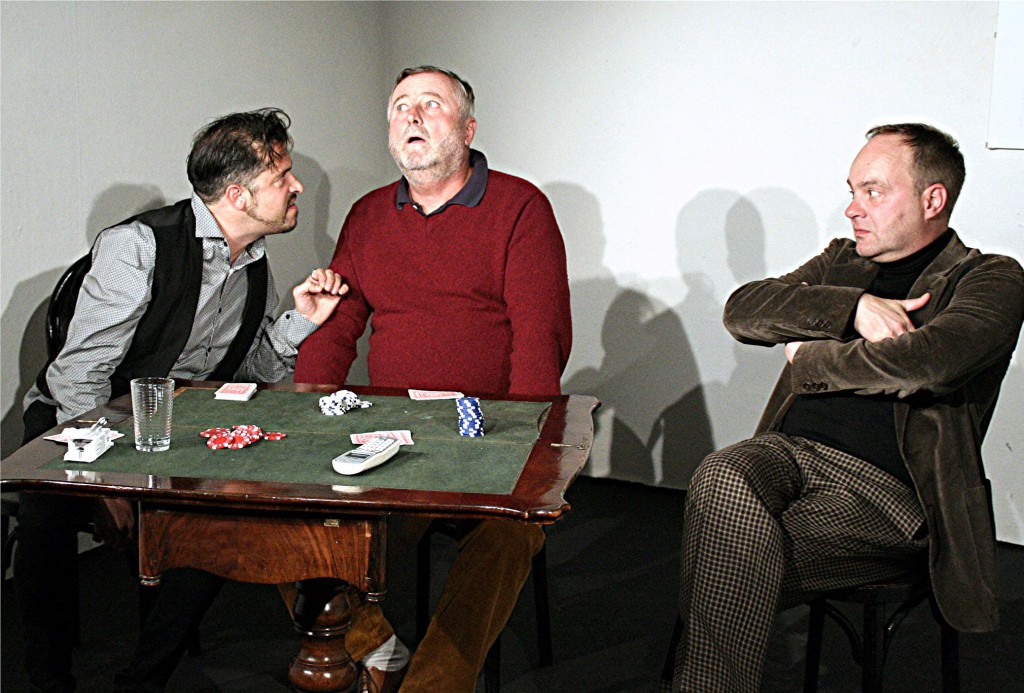 The round of card players starts quite poorly – one of them is late and confesses to having committed murder.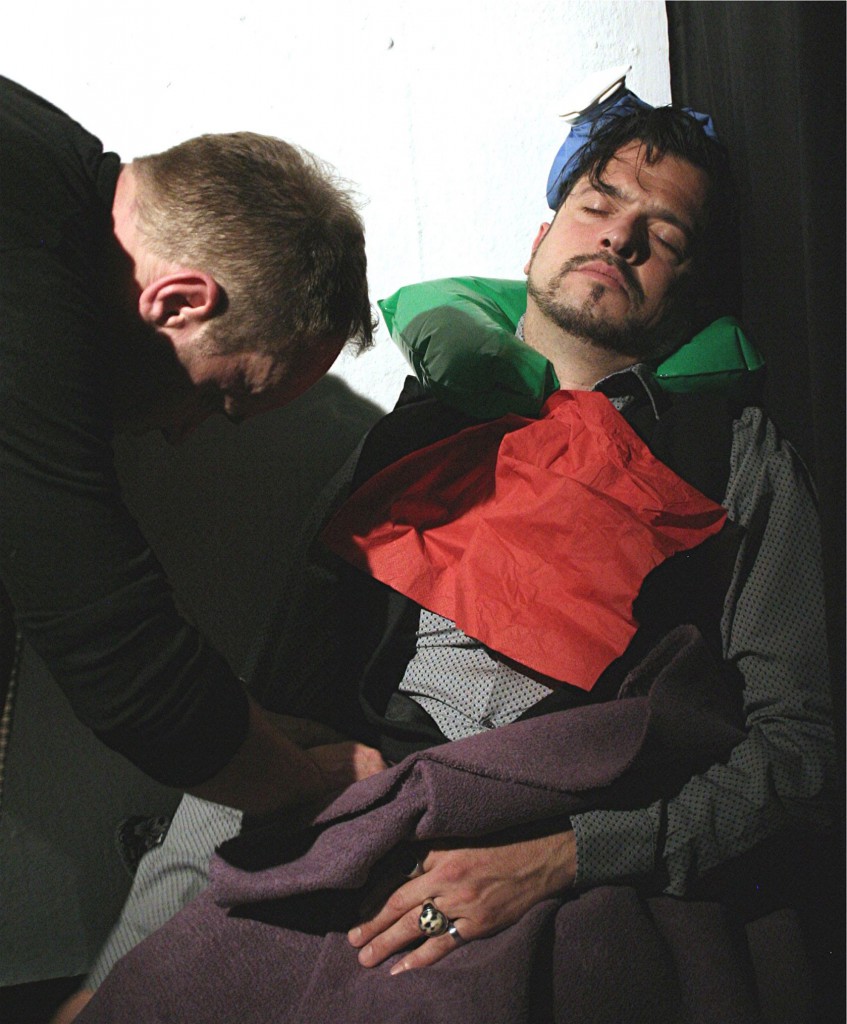 A long night with many stories and alcohol take their toll.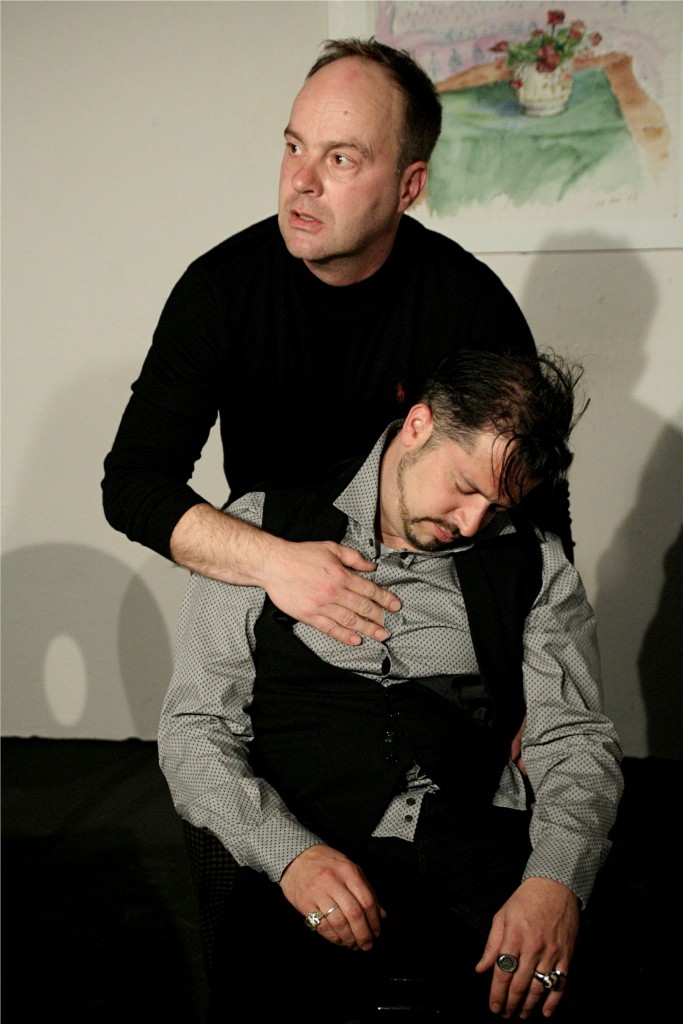 The solidarity among friends will get the upper hand.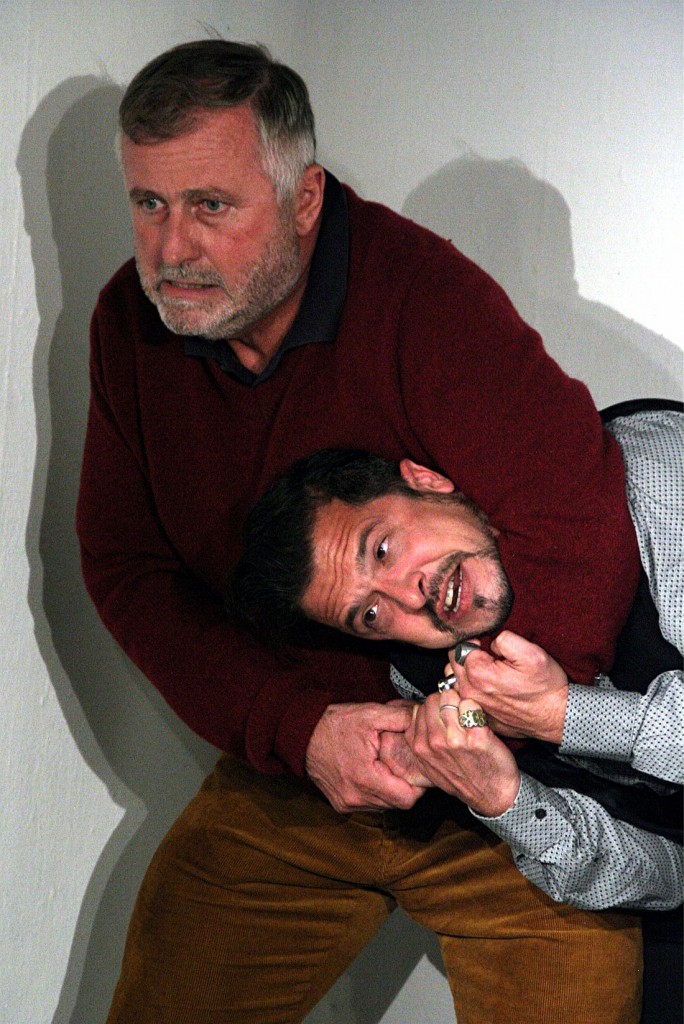 But then, something happens to bring everything off balance again.

If you need any advice about your theatre trip to Sommerhausen (travelling there, accommodations, food, sightseeing,…), you are welcome to ask me. And here is there you can order tickets.
RMD
(Translated by EG)