Klaus Hnilica
Friday October 26th, 2018
I often went past this bar. But I never went in. Why should I? I am not a bar frequenter and never will become one.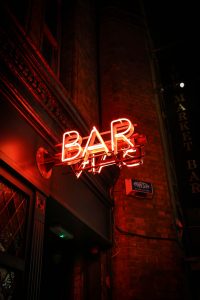 However, after all these weeks of hot weather, the idea of a cool cola with rum or an ice-cold whisky soda sometimes found its way into my brains when I passed it on my way home. I have to admit it!
Besides, the permanent darkness you saw whenever the entrance door was opened also suggested that it must be quite nice and cool in there. And it opened quite often! Somehow or other, it seemed that the place was open day and night, seven days a week and fifty-two weeks every year! Wasn't that strange?
Well – and then, last Tuesday in the late afternoon, I actually stood there at the bar of this strange place and finally ordered the long craved whisky and soda on plenty of rocks!
It was probably because the day had again been unbearably hot and I dragged myself home feeling totally drained and depressed after my day in the office. When, suddenly, an elegantly dressed elderly gentleman opened the entrance door to said bar directly before my eyes, I took courage and followed him spontaneously – as far as the bar: I had to do this because in the impenetrable darkness I immediately became totally dis-oriented.
Since, as I said, I ended up at the bar accompanied by this random door opener, I was then left with ample time to get used to the extreme darkness.
This sense of having lots of time was also why the existence of a barkeeper had totally slipped my mind. Only when he asked what I wanted did his youthful dark-skinned face – his white teeth – his totally bald head – and – and – and … register.
His question took me by surprise, so I just said whisky soda, please!
Which whisky brand?
Hm? – I moaned.
Bourbon? Scotch? Blended Malt?
Any of the three – but please with plenty of ice!
The young man possessed too much tact to further prolong my agony. In no time, he put a glass of whisky soda in front of my nose and next to it an extra container with ice cubes and a pincer. I was absolutely thrilled.
After two hefty swallows, I was finally prepared to look around and see where I had ended up: to my right, I saw, indeed, the elderly gentleman I had followed. He was probably a regular, because he talked English with the barkeeper. And to my left, almost at the end of the huge bar, there was a lady wearing a Dirndl Dress. She clutched her drink in both hands and just looked in front of herself rather stiffly.
But something was wrong with this lady.
The very way how she sat on the barstool. Her Dirndl dress, too, had moved upwards in an unseemly manner. The protruding leg looked like a hairy, brown-painted prosthesis and was stuck between the barstool and the counter. Well, and then even I understood! It was not at all a lady sitting there wearing a summer Dirndl dress – no, it was a man!
In fact, it was a rather rough man, too who, for some reason or other, had been pressed into a far too tight Dirndl skin like an oversized meat sausage. Consequently, you now saw not only the brown meat sausages between the blue waistband and the red upper dress, but also how the short sleeves of the white blouse pressed into the meaty upper arms. Not to mention how you saw plenty of black chest hair at the cleavage!
Well, you cannot do any worse, can you? Give me a break!
The fact that this 'man-woman' kept trying to at least pull the light-blue hem of the dress over his right knee did not improve matters at all. To add insult to injury, regardless of the very dim lighting, it was easy to see that this strange in-between creature had not done anything at all to make its face something that might at least shown a tendency towards looking female at all.
On the contrary: some of his long and oily hair actually hung in strands over his forehead and his very brown, rather bawdy face, sported extremely visible black three-day stubbles!
However, when our eyes met because I had been gaping at this hermaphrodite for too long, I was surprised to see a sudden smile on his face. In fact, said smile even looked like an invitation to me, because it was accompanied by a friendly nod of the head.
Regardless of the confusion I felt, I nodded back and took two gulps of my whisky soda in order to regain my inner equilibrium.
The Dirndl-hermaphrodite then ordered a new glass of bourbon from the barkeeper by yelling at him quite loudly before getting up and turning in my direction.
Careful – the man was at least half a head taller than me and looked quite muscular! Not saying anything but moaning and reaching down at his light-blue dirndl dress, he took his place next to me on the bar stool while I bashfully smiled at him and mindlessly refilled my empty whisky glass with ice.
I am sure you are surprised to see my outfit? He said in a surprisingly winning way.
Well, to be perfectly honest, yes, was my terse reply. But I am sure I am not the only one around here who feels this way.
Too true! Was his short reply before he downed his freshly ordered bourbon in one go.
I continued by saying, but then, it is certainly none of my business! After all, this is a free country where everybody can move around as they like.
Correct! Was his reply while he took a gulp of his bourbon.
Let us rejoice in the fact that this is how matters stand in this country, I added.
To be sure, to be sure, were his eager words.
I said nothing because I did not want to appear nosy.
After a short interval, he said, you know, there is a reason for my strange Dirndl dress outfit!
Certainly, we all certainly have our reasons, I replied…
But in my case, my wife is the reason, he interrupted me.
Hm – I grunted.
Yes – she believes I am a drunkard!
How come?
She is convinced that, while she will see the musical later this afternoon in the Congress Centre, I will get hopelessly drunk!
And is she correct?
Definitely not! On the contrary. In fact, I believe she will not at all go to listen to the musical but instead see here lover. She is just afraid I might spy on her …
Which will probably not be an easy job with you wearing the Dirndl dress outfit!
That is also true, but this is because she shamelessly took advantage of the fact that, this time around, we already arrived a day early for the musical and consequently stayed overnight in the Congress Centre Hotel. When, at noon, I went to sleep as usual, she probably got dressed in her 'small black', packed my suit – and disappeared!
Which means you are practically incarcerated in your hotel room until she returns! I finished for him, feeling as sharp-witted as a master detective.
Correct – by the way, I am Hilmar!
Okay Hilmar! I said and gave him my name – which I do not wish to tell you here – and raised my glass to him.
In any case, I continued, it seems to me that your lady is a smart creature, if you allow me to say so. And she definitely reminds me of my ex wife…
In other words, we are both burnt children, Hilmar summarized the situation.
Or else horned idiots who have deserved no better, I said before again raising my glass to him and, like him, emptying same glass.
Hilmar nodded thoughtfully and ordered two new drinks for us.
Then he said that, at long last, he wanted to fight back and consequently he wanted to propose something – among friends!
What kind of proposition are we talking? I asked.
How about, Hilmar said hesitantly, if you were to – quasi on an honorary basis, lend me your suit for a few short hours and in return wear my Dirndl dress?
That was definitely something I had not seen coming!
I quickly felt how both my blood pressure and the frequency of my sitting pulse went up in a rush and, supported with my right hand, gave him a gesture that suggested he might not be quite right in the head?
But Hilmar seemed to have anticipated this: he remained unperturbed and said that it would definitely not be detrimental for me because money was something he swam in!
After a longish pause, during which we silently stared at each other, I said: forget about your money, Hilmar! You know, your proposal is so beyond rational that it is coming out almost attractive at the opposite end. That – and because my ex-wife was similar in type to yours – I will help you. I will do it!
Hilmar embraced me very emotionally and we both disappeared to the toilets!
Of course, now all the diverse mouths in the surprised faces of the bar visitors opened again when, suddenly, 'I' was a 'Dirndl Dress Monster' while Hilmar looked the gentleman wearing my dark-blue summer suit!
Since he was more muscular than I, the jacket and the trousers were just as undersized for him as earlier the Dirndl dress had been, while I had no problem at all wearing the clothes that belonged to his wife. But Hilmar was definitely very happy with his new outfit!
He was visibly happy when he swallowed his newly ordered whisky. Then he consulted his watch, looked straight into my eyes and said with feeling that he will be back in no more than two hours.
Before I had a chance to reply – he was gone and I was left all by myself on the stage: at least this is what it felt like when all the guests in the pub suddenly stared at me.
I probably turned purple and spontaneously turned towards the counter with a feeling of inner emptiness. In a reflex movement, I looked for my glass and rather desperately poured the rest of my whisky soda down my throat.
To be sure, I signalled to the bar keeper that I want another one, but at the same time I already toyed with the idea of going home and hiding in my nearby flat.
But before I could think this idea through, a spectacular not-very-young lady suddenly made her way through the bar room entrance.
Besides her perfectly made-up face, she was much more remarkable because she wore a much too big trouser suit. However, this did in no way minimize her elegance!
She was around my height, had short black hair and perhaps a nose that was slightly too long. To make up for it, however, she had a fascinating smile. On her stiletto heels, she marched towards the counter without hesitation.
Even before the bar keeper had a chance to ask her what she wanted, she twittered self-determinedly: I want the same as the lady who wears my Dirndl dress!
That would be a whisky soda, stated the bar keeper soberly.
Well – you should know!
Of course, I, the moving Dirndl dress monster, realized immediately how my knees got softer and softer. But I was even more impressed at the speed and precision with which this newcomer had analysed the situation in this dimly-lit bar.
I hardly managed a short Good Evening and certainly nothing else, because the feeling that I, again, had to play a game in front of the aggressive audience robbed me of all my strength.
On the 'trouser suit lady', however, the situation seemed to have a totally different effect. With a provocative glance, she said: or are you telling me that the clothes you wear are not mine?
I do not now, my lady, I stuttered.
But I know!
And why do you wear this much too large man's trouser suit, since you claim that this Dirndl dress is yours, I enquired with sharp male logic?
Because you are wearing it – dear Sir! Or have you ever seen two persons wearing one Dirndl dress?
No – certainly not! Was my soft reply while I downed my glass in one go in my desperation.
Since the bar keeper had, by that time, already served her drink, she took it and raised her glass to me: here is to you, dear Sir, she said in such a loud voice that nobody at the nearby tables could have missed it.
And she whispered in my ear that her name is Elsa!
Hilmar's Elsa? I asked without real surprise.
No – your Elsa, if that is what you want!
Oh my God – now that did surprise me. Or maybe surprise does not really come close to it? I was overrun and caught up by a tsunami of undefinable emotions in such a way that I said nothing for several seconds.
Since apparently Elsa noticed how I felt and all my colour had probably drained from my face, she said: but, naturally, this is only if you give me back my Dirndl dress!
With pleasure – but what will your Hilmar have to say about it?
Forget Hilmar – and come to the toilet with me – but quick – otherwise I might change my mind.
When, after having given the bar keeper a brief update, we disappeared and shortly afterwards returned to the counter with swapped clothes. We were, of course, still on stage, but we had become far less interesting. After all, a lady wearing a Dirndl dress and a gentleman wearing a suit were not really special enough to warrant hours of fascination.
And when, finally, we lay next to each other in the nude at my home, Elsa confessed that Hilmar had no idea how lucky he had been today: today of all days, her boss, the rat, had disappointed her and sent his secretary into the musical as a replacement. Hilmar was probably at this very moment sitting next to her – after the interval!
Yes, and because of this scandal, she was upset enough to wish for revenge in the form of wanting to surprise Hilmar in his 'booze bar' – which she had known a long time about – by wearing his own suit. Because seeing Hilmar in her Dirndl dress was exactly what her thus humiliated soul had needed! But unfortunately, due to my un-reflected saving manoeuvre, this scenario did not materialize, said she with an evil smile before she took a painful bite into my left nipple – which, as she felt, stood far too provocatively.
Since, after an hour of lusty moaning and the return to this earth, Elsa had probably recovered from the misery that was brought upon her but could not decide what to wear – suit or Dirndl dress? – I dressed in her Dirndl dress and sent her back to Hilmar in his suit!
Hilmar already stood at the counter when I entered the bar!
He gave me a very friendly hug and for the bar visitors the show went on…
But he was rather in a hurry. After all, Hilmar was extremely happy about the entire affair having been only a terrible misunderstanding between himself and his beloved Elsa. Now he urgently had to go and see her in the hotel, he said, and make amends for his shabby mistrust in her by inviting her to a festive dinner in a 'star restaurant'!
He hoped that this plan would come to fruitition, because Elsa's girl-friend in the musical had told him that Elsa had unfortunately been forced to leave the wonderful event during the interval as she had suffered from circulation problems.
Thankfully, at least I remembered the necessary clothes swapping when Hilmar's burning heart became eager to see his Elsa, while the bar keeper reminded us of the six not yet paid-for whiskies which, naturally in his joyous enthusiasm, Hilmar gladly paid, including a more than generous tip.
And I was happy to be allowed to roll home at long last, wearing my own clothes and feeling the sound of 500 Euros in the breast pocket that Hilmar had hidden there. This was proof that the last few hours had not been a dream, but that Elsa might actually – perhaps? – again bite me next Tuesday…
KH
(Translated by EG)