Klaus Hnilica
Tuesday March 29th, 2016
Carl and Gerlinde (Episode No 48)
"You always either suffer from diarrhoea, or are drunk, or else sit in front of the TV set watching soccer!", Gerlinde barked from the balcony into the darkened room of her much-loved hotel Barceló Santiago.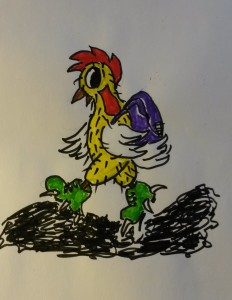 "My dearest Gerlinde! Do not be so upset with me, just because of one beer I allow myself each day while watching Kloppi and his FC Liverpool", Carl grunted back.
He was pleasurably reclining, lying down and never once taking his eyes off the screen on the wall for a single second! After all, there was something at stake in this Europe League! And – after the surprising first goal – the brave Augsburg players were still coming along nicely against the Klopp troupe …
"As always, you are just talking nice! As it happens, my expectations for this spring vacation of ours on Tenerife had been rather different from what it turned out to be so far!", Gerlinde kept complaining, regardless of the fact that her nagging was totally drowned by the noise the Atlantic Ocean made on the black reef – directly below the hotel.
By now, she was quite annoyed. It was already the fifth time this afternoon that she threw herself onto the deck chair and melancholically stared at the trashy blue ocean with the archaic three-mast ship in full sail, from where, yet again, numerous tourists who had been tricked into coming here were in vain looking for dolphins and whales.
Just like she had been trying for hours in vain to tempt her Carl to come outside and get some fresh air: mind you, it had taken her three years to talk her hard-bodied non-vacationer into finally flying to this unloved island of Tenerife – where her 'Ex Husband' Jürgen still owned the formerly shared apartment.
Yes – it had been a total of three years during which she had tirelessly worked towards persuasion. And at the end of it, the moron was now sitting in the hotel room in front of the TV set, or else, if she was lucky, could be made to move his buttermilk cadaver up one flight of stairs to the pool area and swim a few negligible rounds; of course, he always wore his sunglasses and kept his stubborn head above the water at all times, because he had to be careful not to get his 'perm' wet. To make up for it, a stiff neck was guaranteed, which meant that he could flee the pool after no more than five minutes. …
Maybe it was even less than five minutes!
After all, the borders of the pool were at all times under siege from beer-drinking English families with 'brexit' favouring fathers who liked to scuffle and who often catapulted their resisting monstrous offspring towards the middle of the pool like misguided North-Korean missiles. If, under these circumstances, you persevered at the pool, you were at both lucky and unlucky. Because the survivors not only had totally wet hair on their heads but also found that, due to the huge waves, all sunglasses that had been originally worn were irretrievably diving towards the unfathomable pool bottom as quickly as a zebra fish.
And woe if, while fleeing in panic from this 'British Tsunami Chaos', Carly was caught and shaken by a stray fall wind blast from the snowy tide that had been waiting in the background. In that case, Gerlinde could definitely forget the remainder of the afternoon!
Whenever such unspeakable adversities happened, Carl would wordlessly throw his dressing gown over his shoulders and ignore every deck chair, no matter how attractive it looked. Instead, he would stride towards the pool bar with determination!
It went without saying that, once there, he would not leave before he would manfully have downed four double 'Carlos' into his tormented body – regardless of how Gerlinde was complaining!
So it can hardly be a surprise that Carl would, after such a display of assertiveness, astonish a totally perplexed Gerlinde on the very next day after the obligatory breakfast of fried egg by asking if she were spontaneously in the mood for a small hiking tour.
"What – today?"
"Well, yes. Why not? Two weeks from now, we will no longer be here, will we?"
"If that is what you want – with pleasure. You know I am always in favour of spontaneous decisions, my dear Carl."
"That is exactly why I love you so much, my dearest Gerlindy", Carl sucked up to her while clandestinely spooning the orange jam Gerlinde had gathered for herself onto the last remaining piece of white bread.
Since, however, the bus for the 'initiation hike' she had been booking days ago already left at eleven, this was one of the exceptional cases where all protest was vain!
What was far more important for her was the fact that, less than forty minutes later, her 'hiking eager' Carl stood next to the bus to Santiago del Teide ready to go and carrying his backpack. And, mind you, it was all for no more than 3 Euro and 30 cents – for both of them!
You definitely could not get more economical, could you!
Carl, too, was in the best of moods. During the speedy, curvy drive up, he pointed out for several times that there probably were only very few couples who were capable of deciding something so spontaneously and then of acting accordingly as they did.
It was unique, absolutely unique, this harmony between the two of them. Wittily, he pinched his Gerlinde's upper arm so hard that she shrieked like a piglet. And since Carl grew more and more enthusiastic with respect to harmony and even mentioned Kurt and Hannelore – who seemed to find no common ground at all for shared experiences – he was rather surprised when Gerlinde, as early as after the third stop, urged him to exit, discreetly pushing him towards the entry point of the hiking path she had chosen:
10.3 kilometres to Tamaimo!
"Ha, this is ridiculous", Carl was quite jubilant, "I could do it with one leg tied down!". No sooner had he said this than he had already jumped from stone to stone without hiking sticks until he reached the bottom of the first steep decline, where he laughed and waited for Gerlinde, who preferred to start the journey a little more cautiously.
There was no question that the route was truly picturesque. Gerlinde really had done a great job choosing this tour. To the left and right, the terraced fields were still untended at this time of year; in between you could see well-stocked ponds and green meadows all the way to the steeply climbing hills in the background. And no human being anywhere. Only a few scattered palms and, very far on the horizon, a white house. Somewhere in the distance, a few dogs barked.
But the path was not easy!
Almost all the time, the way was steeply downhill and on the occasional flat parts, there were always razor-sharp small stones where you had to be careful indeed to avoid stumbling.
But then, wearing the good 'Lowa Shoes' and being fit enough, all this is no problem, Carl still believed so when he started feeling that his right shoe seemed to swim away from his right foot. When he lifted his foot in order to see what was the matter, he was horrified to discover that the total profile sole was hanging at a thread; the only thing it needed to totally break off was a small rip!.
"So what now?" Gerlinde asked anxiously.
"I have no idea!"
"What about the left show?"
"Well, the left shoe still has its sole – no! On the left side, too, it is already hanging by a few threads …"
"Oh my God – what now?"
"Nothing – we continue on our hike!", Carl grunted, sounding as if he were walking in fish oil.
Which is exactly what he was doing!
And he still did it when even what remained of the soles was practically no longer there. And even when the insoles where hanging from their last threads inside the shoes! And when the hiking socks were nothing but holes, and when the shirt and the t-shirt he had tied around his feet dissolved into bleeding fringes. …
But by that time they had actually reached Tamaimo! And there was a bar from where, after Cortado and water – God be Praised – they could order the taxi that took them to the hotel. …
"What a pity", Gerlinde lamented after she had named their destination to the friendly, young taxi driver, "that this had to happen at the very start of our hiking program"!
Acidly, Carl agreed, although he had long ago decided that 'lost soles' at the end of a 'hiking vacation as planned by Gerlinde' would have been a lot worse.
Regardless, the bitter complaint they were going to send to the 'Lowa Company' would never turn into an exultant thank-you letter. He owed Gerlinde that much. …
KH
(Translated by EG)