Klaus Hnilica
Tuesday September 24th, 2019
Carl and Gerlinde (# 62)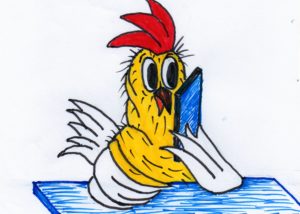 "Carl – there is a lady who wishes to talk to you", Gerlinde yelled from the kitchen, before finally, deciding to bring him the telephone into his home office, after all.
"Good morning, this is Cornelia Koch from the Trend Research Institute! I was hoping that you might be willing to let us ask you a few questions?"
Carl took a deep breath and said "yes"!
"Many thanks! After all, we are dependent on people like you if we want to do a fair job."
"Okay", said Carl.
"I would now like to ask three questions – and as soon as you have answered them, I will leave a thank-you present for you."
"Hm", replied Carl.
"The first question is: are you married?"
"Why?"
"Well – my first question is about the marital status: are you married?"
"Do you happen to work for a matchmaking agency?"
"No – of course not. We are the Trend Research Institute and the only thing we want to do is find out certain social trends. So let me ask again: are you married?
"Yes and no!"
"What exactly do you mean by that?"
"Yes", Carl replied spontaneously. He heard Gerlinde's snicker – apparently, she had her ear on the door …
"Well, so here is the next question: do you own a house?"
"Ah – you work in realty and you are looking for objects to sell on?"
"No – we are the Trend Research Institute and we would appreciate it if you gave concise answers to my questions. So do you own a house?"
"I own several houses", said Carl.
"How is this?"
"I own several houses!"
"May I ask how many houses you own?"
"Twenty-six!"
"This is not my idea of a good joke? Are you pulling my leg?"
"That is something I would never do without previously having asked for your shoe size!"
"Good – so I will write down twenty-six! So here is the last question: do you live in one of your own houses, or are you renting?"
"I am renting one of my own houses!" now Carl was really getting a little impatient.
"And why is that?"
"Because my wife insists that I pay rent!"
"Why does your wife take rent from you?"
"Because I told her to demand rent from me …"
"From you?"
"Naturally, because we live together!"
"What kind of sense does that make?"
"It makes a lot of sense, because that is how she has her own money with which to pay the rent that she owes me"!
"You also charge her?"
"Yes, – because that is how I practically live for free?"
"And your wife?"
"She would also live for free, if she were to marry me at long last …"
"Thank you so much for this conversation!"
"So what about the thank-you present?"
"Well, I guess that has become obsolete"!
"This is outrageous", said Carl in the direction of Gerlinde who suddenly appeared in the open doorway.
"Carl, I think it was really great how you taught that miserable telephone lady a lesson. I am really proud of you"!
Since she then disappeared noiselessly, Carl had no opportunity to tell her that, after this remark, he was going to cut some of the money he paid to her as his rent!
K.H.
(Translated by EG)