Klaus Hnilica
Thursday April 4th, 2019
"A first-grade asshole!", was always the first reaction when they talked about Sturmius. For me, too, this guy was hard to digest – almost impossible to accept. …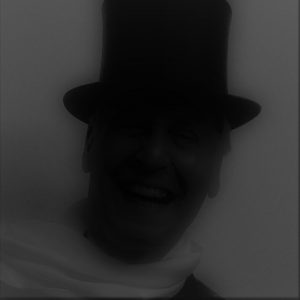 But you had to admit that he was an excellent cook!
For many years, his name and his artistry in cooking were everybody's main topic. Sturmius von Suppé cooked on TV on a Thursday at prime time, his viewing figures had no problem surpassing those of the Sunday 'Tatort'.
No rapist or child molester could compete with his Tafelspitz, let alone his roast saddle of venison. No murderer was ever able to get more interest than his acid Vienna Schmäh while he cut duck breasts and glazed carrots.
But I was never able to find out why this Sturmius showed such a dog-like devotedness towards me of all people. Perhaps it was because I, too, was different. Yet I had never been ostracized like he – who, even when he was at school, had constantly smelled of 'celery'!
"Here comes Stinkersturmi! Sturmistinker, Stinkersturmi", they called after him or whispered with smiles at each other, because Stinkersturmi was not someone you wanted to find yourself alone with on a dark road at night. He had the strength of a Grizzly Bear and never hesitated to use it: even before he grumbled, his paws found their goal – after which mostly nothing remained to be said or done.
Since I was built more like a hen and had not much to offer except a full mouth, Sturmius – without my ever asking him to – made me part of his 'celery aura' and removed all evil doers from my path before I could even say 'hens'-droppings'.
To make up for it, I agreed to sit next to him each year. Who else would have been able to endure this repulsive creep who smelled of celery?
Naturally, this earned me the mockery and anger of all the others, but that was the price I paid for being protected by him; the price also included all the help I gave this walking celery in mathematics, physics and chemistry.
Once in a while, I even went home with him and saw his impossible upper-class parents and his lethargic sister Raffaela. To be sure, she did not smell of celery, but she made up for this by smelling of perspiration. And the dark, wood-panelled rooms of the noble castle smelled badly of old cabbage, because, due to the high price of heating, they were hardly ever aired.
But I really had never been quite close to this Sturmius von Suppé! I am sure it was not exclusively his fault – I, too, liked hiding behind my protective 'shield ' and did not let anybody come close: nobody would have understood my 'tepid sorrows', anyway…
Well, perhaps Sturmius would have understood! But I totally had lost his trail after graduation. I was the declared asshole and had enough on my plate with all the oppressive salamanders. Camouflage and deceit were the necessities of the time: nobody should hear about my unspeakable tendencies. And then, I somehow had to get through my studies at university.
So much the more did it surprise me when suddenly he, Sturmius, appeared on the TV screen of the nation out of nowhere and not only pampered his guests in a culinary way – for instance with his Beef Olives -, but also brought tears to their eyes with his biting Vienese Schmäh.
Suddenly, nothing was left of his uptight inability to talk a lot, neither could you hear any of the Hessian dialect with which he used to provoke the nobility circles he moved in.
And how strong he looked, this appetizingly dark-tanned Sturmius: the formerly pudgy pig-face had become distinguished and the total baldness, along with the dark horn glasses and the then seldom seen three-day-stubbles gave him a magnetic look.
The lively eyes and his broad grin – disarmingly charming whenever that was what he wanted – cultivated everything like the most delicate of spices. All of this not only delighted me, but also felt like a punch into my guts: I had to admit that he – the eternal asshole – had managed something that I never achieved: burst out of the 'cocoon' and turn the unappetizing caterpillar into a colourful butterfly! Yes – Sturmius definitely had done it …
I admit that this insight came totally out of the blue for me and that it gave me some sort of chronic stomach ache that did not seem to abate! My only consolation was the tasteless hope that, regardless of all his culinary brilliance, he probably still smelled of celery. If even this was no longer true, then what remained of my former superiority?
Nothing – nothing at all was left – as I immediately realized when we met again for the first time. He whispered with an air of nonchalance that he had never forgotten me! So what would have remained for me to brood over or be sorry about? It was immediately clear that I, the freelance journalist, would have to work where the beautifully sun-tanned Sturmius did all his barbecuing and cooking. Be it Amsterdam, Brussels, Berlin or Vienna – I was always there with him!
This is how it did not take me long to find out how Sturmius had not only learned how to cook and cooked with Plachutta, Lamprecht and diverse other restaurants, but also that he had been an item with a cabaret artist famous throughout the city for ten years. Said artist also had been responsible for bringing to the light of day the 'new Sturmius' with a lot of sensitivity, thus laying the basis for his exceptional TV career.
Unfortunately, soon after they separated, this benign spirit turned totally towards the French Cuisine and his new lover, absolutely refusing to have anything to do with Sturmius' former Viennese cooking art. What a pity! It had actually been a lady who had intervened, but Sturmius refused adamantly to tell anything about her …
Well – and in Berlin, Sturmius had a short time ago, just like in old times, used his fists to get me out of a very inconvenient fight after we had celebrated through the night and met the wrong types of guys in a park. But Sturmius had not forgotten anything. On the contrary. Without a word, he finished the affair. The only help he needed was when he insisted that the three injured boys should be neatly positioned like sugar canes on the still dew-wet grass – arranged according their height. Somehow or other, he had become pedantic and more sensitive – this new Sturmius von Suppé…
So much the more brutal and merciless was the news that he had suddenly died!
For me, it was unbelievable that this frying and baking basic power was never again going to barbecue anything. Who could have managed to do harm to such a tough tree trunk? He was always the one who had wet the others?
Or was everything a lie? Just dog Latin? Had this grandiose camouflage artist again tricked us all? Perhaps because he saw that his mission had ended and he was scared to start a boring life of routine? Or did he intend to surprise the world yet again? With a Sturmius as a side dish that nobody had ever seen before? Well, it was absolutely conceivable… …
But when, after long and sad weeks of alcohol delirium, I awoke and regained consciousness, and after all news about Sturmius's death in the press and all social media had been digested and several discussions with his former environment had happened, I seemed to feel deep inside that, for an investigative journalist like me, there remained a lot to be investigated and that this is what I owed my friend. As he used to say whenever his braised meat was in the oven: you have to give it its due time. …
But that is another even more unbelievable story!
KH
(Translated by EG)