Klaus Hnilica
Thursday April 11th, 2019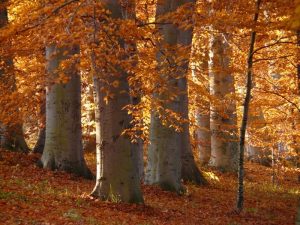 Oh God – how often have I wished I had never agreed to this unholy affair: all the things that came to light because of my meddling, or rather all the things that remained unsolved, only contributed towards me feeling even more sorry about the loss of my friend Sturmius…
It started with the impossible "Dead Spot Hotel" in the beech woods of O.R.. No halfway sensible person would ever have set foot into this impenetrable wilderness. But, naturally, Charlotte Burns, this dubious self-appointed guide, had to 'produce' a breakdown near this the world's absolutely most remote hideout with her minibus, four more persons and a driver. And it had to be exactly on Friday afternoon, on our way to the 'Musikantenstadl' that, allegedly for the first time ever, played in the town W. Of course, the usual suspects were to come: Andreas Gabalier, Andrea Berg, Roland Kaiser and whoever else usually is part of the outfit.
Almost miraculously, there was a sign not far from the place where our breakdown had occurred that said that a 'Dead Spot Hotel' could be found three hundred metres from here. However, as it turned out, said hotel had been out of commission for many years and, with the exception of a retiree who was hard of hearing and occasionally had a watchful eye on it, nobody ever went there.
Well – it is hard to believe, but occasionally, the famous TV cook Sturmius von Suppé, too, was part of the outfit. His purpose – typically for the outcast- was to try special cooking creations about which nobody at all must hear anything in this absolute solitude.
Naturally, only a very small and exclusive circle of persons was in the picture about these sporadic visits of his. Apparently, the mysterious Charlotte Burns was one of them: there is no other explanation for this accidental meeting of this bizarre group of tourists and my friend Sturmius.
I, too, had until then not had any idea that he actually used this place once in a while for diverse adventurous activities.
It seems that a regional TV station also used this 'ancient place' for diverse ghost stories and 'Tatort' recordings.
Still, it stroke me as more than strange that the famous TV cook Sturmius von Suppé, of all people, had been told to go there in order to create a suitable "monster dinner" for a "monster binge at midnight". Allegedly, the motto had been "the less appetizing, the better": make it an "abhorriminable TV program"!
As I was told, Sturmius von Suppé was not at all fascinated by the idea of having to execute such a lengthy cooking experiment that might well take several days in such a dilapidated environment. But his arguments were beaten; again and again, strict secrecy policy was given as a reason by the responsible parties!
But perhaps even more important for him was that this break-down tourist group turned up at the 'dead spot hotel' totally unexpectedly late at night.
Was this an accidental? Or was it really this impertinent guide Charlotte Burns who had set a few wheels in motion?
Actually, the members of the tourist group were almost an embarrassment. Besides the alcohol addict Raffaela von Suppé, there was a rather dubious music journalist Dörte Hansemann, along with the two "Hessian Babblers" Ernie and Bert Hesselbach.
And, almost as if a button had been pressed, all of them seemed to suddenly hate the son of a bitch Sturmius. However, they did not take to each other, either: the lesbian couple Charlotte and Raffaela made fun of the lamenting Dörte who, after an alleged violation by Sturmius in the basement of the Dead Spot Hotel, admitted that she had a fifteen-year-old daughter with him. And it seemed that Bert Hesselbach had been cheated by Sturmius when it came to the rights for the phenomenal 'Noggi Aroma'. He said that a lot of money had changed hands during that affair.
So it came as no surprise that, under these circumstances, nobody could sleep well at night when Sturmius von Suppé was, on top of everything, accused of cannibalism because he apparently had, in a consciously provocative fashion, processed a bloody female arm – which he had 'constructed' beforehand from pigs' feet with culinary finesse – as part of his 'fashion cuisine' for the 'monster dinner'.
As a consequence, there was an unappetizing argument in the hotel kitchen during which Sturmius, instead of being able to continue with his work, heard for the first time about his illegitimate daughter Katharina whose mother was Dörte Hansemann!
But the situation took a truly dramatic turn when the totally ignorant Ernie Hesselbach just drove the hand blender which Sturmius had demanded and which hung next to her over the kitchen counter into the soup saucepan in which he was busy partitioning the chicken mush for the creep soup with both hands. And since the device was apparently truly very deficient, it triggered an electric short circuit in the soup that was accompanied by a noisily whizzing electric shock in the wake of which Sturmius von Suppé dropped dead! And he was really and truly dead! As they wrote in one of those tabloids.
Well, you can rest assured that nobody had intended this outcome!
With the possible exception of Charlotte Burns who could not escape fast enough, followed by Bert Hesselbach with his totally clueless and confused wife Ernie.
Raffaela, who turned out to be Sturmius's sister, was probably anything but unhappy about the sudden death of the brother she despised. She definitely did not take long to find consolation in her Schnapps bottle. …
And Dörte Hansemann, who, at long last, got a signal in this dead spot, was able to tell her daughter that she had just turned very, very rich through a substantial inheritance!
Dörte Hansemann was probably also the person who had called the local police. They came surprisingly fast und officially announced Sturmius von Suppé dead. They also sealed the crime scene for the coming securing of evidence. Dörte Hansemann and Raffaela von Suppé gave their statements in the same night, not even demanding to see their rightful lawyers.
Charlotte Burns and the Hesselbach couple were interviewed two days later, but none of these statements brought forth any changes in how the accident was judged!
After an initial 'light storm' in the usual dailies – which was due to the popularity of my friend – it took surprisingly little time for everything to return to normal. I am sure it was partly because none of the concerned parties was interested in pursuing the matter further.
I was the only one who did not really find peace: somehow or other, my journalistic gut feeling told me that there was more to this alleged accident that met the eye. Since, however, I had no tangible proof, my hands were bound and I was left alone with my nightmares and musings for the time being…
K.H.
PS.
Let me express my gratitude to those who helped to shed a little light on the darkness of Sturmius' death: in particular, I would like to Christine Bruckmann, Gabi Nelges, Martina Tornow and Detlef Knoll. Irene Weingärtner, however, refused to discuss the matter.