Klaus Hnilica
Monday June 24th, 2019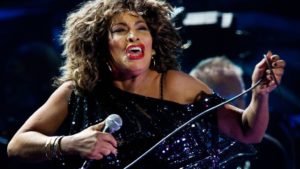 I find both Tina Turner and the US neo-pragmatist Richard Rorty with his book "Contingency, Irony, Solidarity"
/1 / of 1989 extremely refreshing: both she – see below – and he are really concerned with things and discoveries from real life, instead of all the time seeking the Ultimate Truth that we in Germany like to set as our goal.
The important thing for Richard Rorty is that the truth is not found but made!
Incidentally, this idea was first introduced 200 years ago in Europe, but especially gained influence in the pragmatic concepts of the Americans. Currently, in a more and more digitalized world with its fake news that spread extremely fast, it will probably be hard to control the circulation of information at all.
"But for Richard Rorty, the discovery that the truth is made is like a liberation".
All of a sudden, he can see how a truth value can be assigned to a historic state of the public perception – or at least there can be an indication of a consequence!
His idea is that, as the history of philosophy and democracy unravelled, there was suddenly the option to change yourself and the society in a positive way, instead of the domination of the metaphysical constructions which saw the truth in things.
Obviously, for the enlightened and rational citizen, his body is the ideal concept. Instead, we now have what he calles the playful and serious "ironical lady" who understands that contingency ("contingency is something that is neither necessary nor impossible; basically it is what can be but could also be different", see Niklas Luhmann) is a necessity because she is flooded by the understanding that both her convictions and her everyday vocabulary and the society she lives in could also be different.
And she does not think that this is a deficit!
On the contrary, she uses the new opportunities that result from this and uses innovative vocabulary in order to test new stories about herself and the world and to experience the world anew.
The female ironist leaves everything unsolved, she does not crave freedom of conflicts, but open synthesis.
The female ironist knows what life is really about and what makes contingencies possible:
"the state guarantees freedom for its citizens and the society practices solidarity with those among its members who have been violated and restricted".
This knowledge turns the female ironist into a liberal person.
Consequently, if you pair liberalism with an ironic concept of the world, you get a mentality that is appropriate for dealing with the modern craving for fixed identities in a democratic way.
Yet, regardless of this addition of irony and solidarity, you have to note that, with a radical-democratic perspective, even though the female ironist will agree with the contingencies of life, there is still the fact that solidarity necessitates that national and religious differences between humans are considered irrelevant if compared to the similarities between pain and humiliation.
The difference between Rorty's solidarity concept and the rational ethics of enlightenment is that he includes no general principles whatsoever.
He recommends a change towards stories in order to enable literature and the public to develop more sensitiveness towards human misery – and thus generate solidarity.
In this context, however, we need to ask how exactly pain is measured and if perhaps a scale for measuring it is in itself contingent and dependent on the respective social concepts?
And what about solidarity practices themselves perhaps providing us with a concept of what is unsurmountable misery only while they are ongoing and only step by step?
Because what a European discourse in 2019 considers pain is definitely not something you can easily generalize.
Which raises the basic question: is Rorty's concept is a step towards the solution of the problem or perhaps a symptom for the political situation?
Or maybe Rorty's approach is more a de-militarization approach for philosophy – just like Tina Turner's Popsong "We Don't Need Another Hero" of 1985 – which means that we do not need counter-heroes to replace the ancient metaphysics. Instead, we need a pragmatic approach towards solving the everyday problems of society?
Which then implies that the typical personality of humans in a liberal democracy is actually boring, calculating, miserly and un-heroic.
If you follow Rorty, then this is basically the price you pay for political freedom!
And, as opposed to Max Weber, Rorty does not fall victim to a cultural pessimism over it. Instead, in typical US fashion, he wisely says "so what?" and recommends that the words greatness and heroism should only be used in private and never publicly, because: cravings like these will damage the liberal society!
In general, it seems that Rorty's question of vocabulary to be used in public is stimulating in modern times.
After all, Rorty's recommendation to leave religious and other identity-based arguments out of the public discourse because they are only conversation stoppers bought him fierce enemies both on the left and right side of the political scale – and also among the religious groups!
Because if you leave these groups out, you are in danger of losing your claim to solidarity and liberalism.
On the other hand, you will have to ask what exactly remains as a common ground for a society that polarises in terms of ideology?
And how can it find a common language – which seems absolutely necessary if it wants to unite?
Today, it seems that doing without ultimate reasons is understood less as a philosophic change but more as a political problem.
In the end, it might become something that supports a philosophy that postulates the "priority of democracy over philosophy" and does not stubbornly use its former vocabulary, instead applying its vocabulary to the political present – and, if necessary, modifying it!
K H