Klaus Hnilica
Thursday November 3rd, 2011
Why did I wake up? Was I afraid …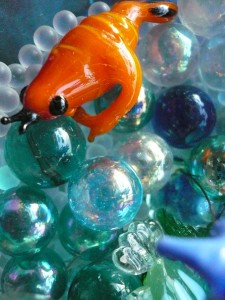 After all, I knew that nobody but myself and Doro had access to this sector of the former castle – which Hans had spent many years renovating with extreme elaborateness, didn't I?
And, as always, Doro was sleeping right next to me on our not quite secret shared 'Lovers' Trap' …
Or wasn't she?
I sat up and switched on the light.
Strangely, her sleeping place was empty? Only the red glass crawfish she had brought back from Venice four years ago, when she was still madly in love with me and – as she herself had always said – would have wished to eat me up neck and crop, was sitting on the night stand and staring at me helplessly…
Now that was strange, indeed. For some reason or other, Doro must have risen very carefully in order to make sure she would not wake me. But maybe it was just Fanny, her unspeakable scraggy dog, who had been restive and whom she wanted to calm. Unlike me, she always heard him …
But why did I suddenly hear this smacking noise on the corridor? Or was I dreaming with open eyes? And why did Fanny not bark …
I tensely listened to what happened outside. Clearly, something was moving behind the door. It was quite soft, like somebody wanting to make absolutely sure that he was not going to be detected. …
Regardless of the fear creeping up on me for some reason, I forced myself to get up. I would have liked to call Doro, or better Dorothee, but a vaguely uneasy feeling kept me from doing so. At long last, I had reached the doorknob and pressed it down. The door did not open!
I tried again and gave it a powerful shove. The door was clearly locked.
Now this was truly strange. …
Now I also realized that the key was gone. As a safety matter, I always left it on the inside. I took a few deep breaths in order to get my pulse down to normal.
Well, this had to be a joke, didn't it? Or some sort of misunderstanding?

What else could it be?
Without further thought, I now called loudly for Dorothee and then listened at the door. But nothing was there!
Or was there something, after all?
Suddenly, it seemed to me like someone was whispering something.
Totally out of my wits, I ran to the windows in order to call from there.
The cool air had a soothing effect on me. All of a sudden, I was ashamed. It was pitch dark outside. The wind had blew with renewed energy and rustled between the leaves like a mountain stream.
Not knowing what to do next, I closed the windos and lay down on my bed. Regardless of my panicky feeling, I must have gone to sleep at some time. When I woke up again, it already started to dawn outside.
Next to me, I heard the Doro quietly breathing.
It took me a few seconds before I was totally awake. Strangely bleary, the panic of the night was still reverberating inside me. A glance at the door told me that the key was back where I always put it! Doro slept softly and silently next to me.
I liked looking at her when she slept. Her extremely pretty face always had something nostalgic when she slept; today, however, there was no sense of peace coming to me from the contemplation …
Finally, she woke up and smiled at me.
What reason was there now to ask her where she had been? I snuggled up to her and cautiously kissed her soft lips.
After some cursory morning ablutions and a few more – unfortunately inconsequental – tender caresses, we made our way along the now brightly lit corridor as usual in order to prepare a healthy breakfast in the main building.
The hearty aroma of freshly brewed coffee immediately made us expect that not much work for breakfast was left for us to do. With wide-open arms, Hans, my husband, came towards us and hugged me vehemently. For Doro, he only had a fleeting welcome.
He had been able to finish early yesterday and then driven out here in the night. Since, however, we had already retreated, he had not wanted to disturb us.
But isn't that what you usually always do, I asked myself. And I was surprised about my own mental reaction.
How did we deserve this wonderful weather, Hans asked enthusiastically. Not to mention this fantastical breakfast I made for all of us. Come to think of it, this entire endless weekend during which we will at long last just enjoy and indulge…
Agreeing with him, Doro laughed at Hans.
So did I, a little later. And scraggy Fanny scurried around between our legs and was also quite happy….
Regardless of the weather forecast having predicted a thunderstorm, I went for a quick window-shopping stroll through the Friedrichstrasse on Friday afternoon. I had taken a fancy to the new colour "reef"; perhaps I would find something to take me out of my foul mood…
But the Gods did not feel merciful towards me, because suddenly the two were walking in front of me, never noticing that I was there. I had known that they would come. But that they were in such a hurry and would arrive this early was something that – strangely – suddenly made my eyes water. In a tight embrace, they literally floated over the after-hours rush of hectical Friedrichstrasse. For a short time, I even lost sight of them. Although I tried to get back to normal, I still felt my stupid heart hammering up to my ears.
They went straight to the "Hotel Nora", where I had occasionally stayed before Hans came into my life, at the time already with Dorothee. Incidentally, I had now been working there for four weeks, which was something the two could not know, because I had not yet found an opportunity to tell them about losing my job at the  "Park Hotel"! They had sacked me on the spot! The reason they gave was inordinateness, aggressive behaviour towards guests and attempted blackmail. Of course, all of this was quite ridiculous. After all, those so-called victims had truly deserved every bit of what I had 'let happen to them'…
But when I cautiously spied through the open reception door, Doro was gone already and Hans was just being handed the room key!
I hoped my sensitive little Hans was going to pace himself reasonably! And the same was true for Doro. After all, they would both have plenty of time to spend in the remote bedsit I had chosen for them – without telephone or cell-phone access. In half an hour, I will lock both fire-escape doors in this sector of the house. Nobody will then be able to open them through the entire weekend.
What a pity that I was not going to be there and see Doro's face when she discovered the small red 'Murano Crawfish' I was going to let miraculously appear on the beautiful blue glass balls after having locked the two doors. I had arranged those balls on the glass bowl sitting on the side table next to their door in such a way that they would sparkle in the morning sun, seeming to be illuminated from within …
Indeed, what a pity!
KH
(Translated by EG)
About the picture:
Martina Roth,  Acryl on Linen  70 x 90 cm
PS:
And not to forget! On Thursday, November, 17th, 2011, there will be another episode with Carl and Gerlinde.