Klaus Hnilica
Saturday March 16th, 2019
Carl and Gerlinde (instalment # 61)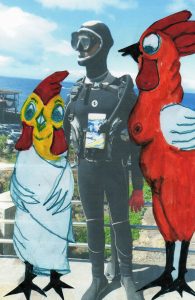 Honestly – for all normal humans, it is truly an extraordinary delight if they, at long last, can be gleeful without all restraint. At least, this is certainly true for Carl!
And he feels he can enjoy that glee particularly when it is about Tenerife. That island where Gerlinde, a few years ago, had sought refuge for a few weeks when, in a spell of mental incapacitation, she had thought she needed to separate from Carl. But then, what clear-minded woman would ever separate from Carl?
None – at least that is what Carl believes.
And in the end, Gerlinde did not really do it! Because as soon as she had seen what grandiose advantages this miraculous creature of a man had, she had commenced snuggling up to him again after surprisingly little time.
Naturally, he had been quite happy to have her back: after all, they had really gotten along brilliantly over all these years. And, to this day, he did not understand why she had needed this time-out at the time – and on this stupid island Tenerife to boot! He had never really liked it. And he also had never ever wanted to fly there.
And where he now – for the sake of peace – had flown again with Gerlinde. Just like all those other seven million tourists who spent time here every year. And they were old, fat, from England and Germany and France and even – who would have thought it possible – from Russia…
And Carl had to admit that this "Barceló" in Puerto Santiago with its four stars was actually not a bad hotel. Even if he felt reluctant about admitting it: this hotel really sat near the black lava coast in such a picturesque way that it reminded you of a crusader. You could imagine starting your voyage at any moment. Directly into the Atlantic Ocean, passing San Sebastian, the Capitol City of Gomera, just like long ago Christopher Columbus who also, just like Carl and Gerlinde, had only the endless blue ocean in front of his nose every day and every night – and the stiff westerly breeze.
Admittedly, the splendid promenade along the small fisher harbour in this small town of Puerto Santiago, too, was not bad. Regardless of the many bad construction sins along the promenade that stretched far into the hinterland, even up the black volcanic slopes.
The lone diver, who was chained to a steel balustrade, looked funny. The contraption was probably meant against thieves and against the strong Kalima that blew from Africa all the time. He had advertisements from a diving school in his breast pocket and both his arms looked surprisingly unhappy as they hung down. And although his left hand had been bitten off – probably by a frustrated terrier –a long time ago, his right hand, wearing a red glove, courageously pointed into the thirty-metre abyss of a black Barancos that flowed into the near ocean directly behind him. Its powerful waves had been rising up and eating into the black lava coast for millions of years day in day out.
To the left behind the diver, you could see the newly built spectacular town fairground that jutted out far into the ocean and at the front end of which stood the statue of a deserving Spaniard. It was surrounded by Guanches that had visibly been treated poorly by the Spaniards, who had not left their work unfinished in the name of Christendom: with the exception of hints in the genes of the current population, nothing was left of them today.
Almost every other day, Carl and Gerlinde strolled along the fairground towards the Arena, enjoying the marvellous view onto the ocean and regularly making their way towards one of the typical pubs, where they would regard the lively atmosphere on the small beaches while sipping their Cortado and Aqua con Gas.
The same was true for this Thursday. Except that, today, the Kalima was blowing even stronger than before, which meant that at noon, when they were again commencing with their stroll, they were quasi surrounded by a permanent coat of sound. Countless tourists made their way through the broad pedestrians' paths and practically every single pub along the street was firmly in the hands of semi-nude old men who mostly quietly sat behind huge beer glasses with their white-haired wives. However, when they spoke, what they said mostly sounded English, very seldom German and never Spanish.
When, almost in a fearfully good mood, Carl returned with Gerlinde in order to eat their usual portion of grilled sardines with ample rose wine at the Paraiso del Sol, he suddenly got the impression from the sound of the Kalima that something inside his body there was a short vibration. It was not the cell-phone he was carrying in his breast pocket. After the second vibration, he knew that it came from the backpack behind. He quickly turned around and even touched one of the two darkly attired, black-haired women who were far too close behind him but showed not the slightest degree of surprise.
Instead, they passed him without any reaction. All of a sudden, he found himself annoyed at being by himself, took the backpack from his back and unbelievingly stared at the two wide-open compartments of his backpack with the scarves, hats, water-bottle, spectacle container and hairbrush in it. In shock, he called for Gerlinde who had walked a few steps ahead and not noticed anything about the two ladies before her – probably Roma – having intended to steel from him. They probably had not found anything interesting in his backpack.
Still in the process of calling, Carl, besides a paralyzing helplessness, felt an intense anger rise inside and would really have liked to overwhelm those two pick-pockets immediately. However, these two were not even reacting to his calling out to Gerlinde. Instead, they pretended that all this racket had nothing to do with them. In fact, they even positioned themselves next to the chained diver, took a leaflet out of his breast pocket and studied it with interest.
Carl felt that he, too, with his open backpack, had to be there and was there in a few strides. However his study of the leaflets consisted of constantly gazing at the two dark magpies, which they did not even seem to notice.
Suddenly, Gerlinde stood next to him and said: "Carl, I will now go and buy those shoes we saw together yesterday in the shop over there".
"Okay", Carl said apathically, without actually knowing what Gerlinde was talking about. He continued staring at the two black ghosts before him…
"But I will need some money from you, I do not carry any money on me. I am sure you have it in the front backpack pocket as usual, don't you?"
Before Carl could react, she lifted the backpack that Carl had hanging over his arm and miraculously produced four 50-Euro-bills out of the third small backpack compartment that the beasts had not opened and that only contained Aspirin and a few drugs. She then disappeared without another word to the opposite side of the street.
Suddenly, Carl got the impression that the two black misery messengers no longer kept their painfully preserved facade of good temper: they replaced the leaflet back in the diver's breast pocket with such a jerk that he almost toppled over regardless of his chains. Then they hurried away. As their distance from him grew, the venom they showered each other with increased. At least to Carl it looked like they were accusing each other of having spoiled a huge chance in a truly amateurish way.
And Carl not only realized suddenly why he was so deeply in love with his boisterous Gerlinde, but also and above all felt the heart-warming power of justified glee rising from inside…
K.H.
(Translated by EG)
PS:
In Instalment (XXI)
Hinter Sonnenbrillen vor Gomera
loves Gerlinde her time on Teneriffa!