Klaus Hnilica
Thursday October 8th, 2015
Carl and Gerlinde (XLV)
There were days when Carl, even during the phase of waking up when Gerlinde's elven-like blabbering actually made his basilar membranes vibrate but his eye-lids had not yet moved upward, knew that something unpleasant was going to happen…+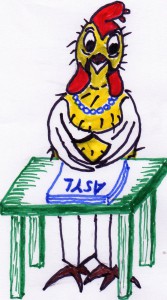 Accordingly, the facial expression he offered Gerlinde and which was mirrored one-on-one in her face – if, these days, it was possible at all to see anything of her face in between those extremely obtrusive illustrations in the 'Frankfurter Allgemeine' – while he was eating his breakfast egg, naturally, looked a little strained.
Carl noticed how reliable his gut feeling had been when, at long last, his secretary Bettina offered him his usual cup of coffee in the office. Because her meaningfully pursed lips, wide-open eyes and several attempts at moving the cup of coffee closer towards him were certainly no good omens.
When she proceeded by telling him that Dr. Osterkorn had asked everybody to a meeting at ten thirty in the big conference room – no documents to prepare – it was absolutely clear that his sinister foreboding would, again, prove correct …
The only surprise was that, on top of Bernie alias Dr. Osterkorn and a number of new and unknown faces, not only the other three sector heads, but also both TRIGA managing directors were present.
Apparently, Dr. Schäufele, the head of trading, was in charge of the meeting, since he had placed himself with a rather crumpled face and among constant whispering with his colleague Dr. Tuchweber at the head of the huge conference table.
In accordance with the sober atmosphere, Carl unobtrusively sat down next to Miriam Braun on the only vacant seat.
Dr. Schäufele was immediately in the middle of things! After greetings by the concern heads from Düsseldorf he read in a rather pronounced way, reminding everybody of the gigantic national task that, due to the dramatic change in the German political situation, we were now facing without once looking up from his text. He also said that the concern heads were going to approach this task with a huge amount of respect and responsibility.
It went without saying that, in the face of this unparalleled challenge, the TRIGA company, too, would – this was the first time Dr. Schäufele actually looked up from his manuscript – contribute to the best of its ability!
This was especially important, Dr. Schäufele continued, since our Federal Chancellor had given a clear signal with her "We Can Do This"! In her inimitable way, without getting lost in details, she not only invited every state in Germany, every community and every town, but also every individual citizen to cordially welcome all the refugees from Syria. Everybody is called upon to make him- or herself part of this European task and go right to their limits and beyond when it comes to human and financial resources. And since the processing of asylum seekers will be a lot faster in the future, all this can be done without a considerable increase in federal funding, says the Federal Chancellor!
It is hardly a surprise, said a tight-lipped Dr. Schäufele, that, due to this exemplary attitude of our Federal Chancellor, huge parts of the press celebrate her and even some mention her in connection with the Nobel Peace Prize!
Instigated by these jolting words from the Federal Chancellor, the concern heads now appeal to all concern firms to also contribute to this great national program and think about including young, trained and untrained refugees of war in their projects! Particulars about how this has to be done, so Dr. Schäufele, will be worked out by a specially installed working group at the appropriate time for the entire concern. And then forwarded to all the individual sectors and departments; it went without saying that, naturally, all unplanned personnel will have to be integrated into the existing work processes within three years in order to make sure that both the current and medium-term sales and profit goals will not suffer and that there is not the slightest interference with the concern numbers as determined; because nobody – ladies and gentlemen – Dr. Schäufele admonished everybody with a baleful expression, which was accompanied with an intense nodding of the Technology Manager Dr. Tuchweber,  can and wishes to risk a profit warning of the concern, even in these difficult weeks and months! Nobody can wish that! Absolutely nobody!
And as a prophylaxis, Dr. Tuchweber interrupted his colleague from trading Dr. Schäufele, he expects the entire leading crew of the TRIGA firm to influence their employees in such a highly motivating form that every one of them realizes how serious the situation is and thus not only works at a hundred per cent of his or her capacity but at those implicitly demanded a hundred and twenty per cent of said capacity! Because this was the only way, Dr. Tuchweber admonished the assembled listeners with a stern look, for Germany to master this gigantic task of channelling the streams of refugees in an organized way.
In the face of the high spirits unfurling all over the meeting room after this intense appeal of the management, Carl did not dare to ask the question if the concern heads themselves, too, were thinking about a contribution of their own by providing extra hitherto unplanned money for this so great national task. Instead, he just whispered the question into the ears of the person responsible for underwear sales, his neighbour Miriam Braun.
But even as Miriam Braun shrugged her shoulders several times with a helpless smile, Carl already became quite convinced that both the concern heads and the managing directors, just like the members of the Federal Government, were not to be envied for their quite well-filled money bags. Instead, the one thing they were to be envied for was the fact that they were all 'blessed with having no idea whatsoever'. This cluelessness has been created and guaranteed by a hierarchical order and command structure that removed everything not meant to be heard or seen 'in the upper regions' through a precise and well-oiled filtering system!
Yes, even the production of such a banal thing as underwear followed this pattern.
Since, however, Carl had no intention of being subjected to this blessing, in fact he even started suffering from an unexpected case of sickness that might well threaten to befall the other persons in the room and even in the country, he spontaneously jumped up, shook his head and left the room, to the surprise of the other participants of the meeting …
KH