Klaus Hnilica
Thursday November 29th, 2018
Carl and Gerlinde (# 60)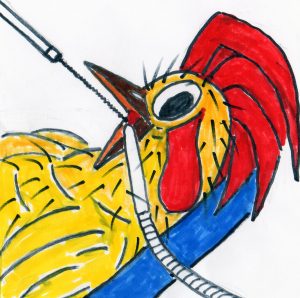 Somehow or other, Dr. Mittler had reserved a special place in his heart for Carl and Gerlinde. Whenever he gave them lead seal, a dental calculus remove or a root treatment, he emphasized how lucky they all were about him knowing them both and being able to chat with them. At times, Carl even started wondering if Dr. Mittler was perhaps secretly in love with his Gerlinde, because of how charmingly he spoke to her and how he overwhelmed her with compliments whenever she went to see him once a year for her routine teeth examination.
Since Carl, just like Dr. Mittler, was an enthusiastic Vienna vacationist, there was only one topic whenever he went to get a treatment – Vienna!
Even more so because Dr. Mittler, who had been born in Dortmund, had almost accepted a professorship in Vienna. Eventually, he had decided to actually work as a practicing dentist 'at the roots of things, or, of humans', as he always reminded them with a hearty laugh. And to this day he had never regretted the decision for a single minute.
He admired Carl not only for his fantastic knowledge of all the important and significant restaurants and "Heurigen" pubs in Vienna, but also for his ability to speak almost perfect Viennese dialect. Dr. Mittler, as a born 'Ruhri', who still had not really gotten used to the taciturn Hessians and their atrocious dialect, could never get enough of it: words like leiwand, Servus, Beuscherl, Schmäh and Topfenstrudel were simply balsam for his aching soul and he was willing to listen to the sound of them all over again and again. Unless he talked himself, which actually he did without any interruption, full stop or comma and without ever even surfacing for fresh air. This meant that, even though he constantly enthused about Carl's wonderful Viennese dialect, he probably never really noticed it…
And, of course, he certainly did not hear him when Carl, during his lyrical stories about his last Vienna vacation, lay before him with a widely opened mouth and he, Dr. Mittler, worked on a huge old amalgam seal on the lower right molar tooth with a drill. That is why, Dr. Mittler said with a look that asked approval from the slightly overweight Frau Römer who sat to the left of Carl with a spittle suction device, trying to open his mouth and treating his left lower lip quite badly, he found it extremely much of a comfort when Carl magically produced these familiar Viennese holiday sounds in his surgery by speaking in dialect.
It really was a first-class pleasure, he said with a smile and then allowed Carl a short break during which he could rinse his suffering mouth and relax his tense jaw line. In fact, this abruptly re-gained relaxation of his speech instruments could even have made it possible for Carl to utter a short contradiction in the most beautiful of Vienese dialects if only Dr. Mittler had interrupted his own rumblings for at least a fraction of a second or if he had only once taken a new breath. But since this was not what happened, he immediately was back to having the drill and the spittle suctioning in his mouth when – eager to get some relaxation – he was just going to close his mouth prematurely for the second time.
But at least Carl managed afterwards to utter several loud and rattling
"Aaaah!"s
that were accompanied by a painful facial expression when Dr. Mittler, while asking him which of the Heurigen pubs in Vienna are the most fashionable, shortly touched his gum. However, he admitted that he actually preferred the 'Gösser Bierklinik' to all Heurigen pubs anyway because they served such huge Schnitzels.
Since Carl, due to his gum injury at the bottom right, began to blead quite freely, Frau Römer energetically pressed him against her stiff bosom in order to now not only drain the spittle, but also the blood. Which meant that Carl, when asked by Dr. Mittler if he felt any pain, could only give a short grunt and accompany it with a woeful look. At least, Frau Römer whispered – while Dr. Mittler kept talking – that he was allowed to also rinse his mouth at any time if he so desired.
Carl took advantage of this opportunity and gave a rather forced smile!
He gave his mouth three thorough rinses and then digested the information that Dr. Mittler, on top of the huge Schnitzels, also really loved the delicious Viennese dough-made food, which his wife did not appreciate at all because he often suffered from intense heartburn afterwards and consequently was in poor shape until noon of the following day.
But then the procedure was over!
At long last, Carl could again open and close his mouth, or rather: he could normally move it and also grin. Dr. Mittler asked him to make a new appointment with Frau Koch in the near future, because this was definitely necessary. After all, the new filling needed polishing and a few other small things also still needed to be done to his teeth.
Incidentally, said Dr. Mittler, he already very much looked forward to their next meeting, because he was then going to hear Carl's wonderful Viennese dialect – which always made his heart skip a beat…
Carl nodded silently and gave the sensitive Dr. Mittler a hefty shake of the proffered hand.
KH
(Translated by EG)
PS:
This text is a total work of fiction and all similarities with existing persons is absolutely accidental.