Roland Dürre
Monday August 25th, 2014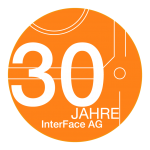 At InterFace AG, 2014 is dedicated to Galileo Galilei.
The three IF Forum presentations all have the motto:
"Cosmos, Humans and The Turn of an Era".
We will invite Galilei Galileo to "visit us in the present".
In the first IF Forum, on February, 27th, Jörg Schindler told us about the "Third Turn of an Era".  On July, 17th, we welcomed Dr. Stefan Gillessen as our guest. He talked about the cosmos with "Big, Bigger, Sharpest", where we also heard how he and his colleagues do research in this field. Incidentally, many of the presentations are available on the InterFace AG youtube channel.
On October, 23rd, we will have Thomas De Padova with us. His topic is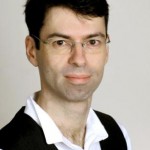 "The Secret of the World".
Four hundred years ago, two totally different scientists cross the borders of the then known world. Galileo Galilei takes a good look through his telescope in Venice and discovers the Jupiter moons.
He publishes his spectacular findings in »Der Sternenbote«. In Prague, Johannes Kepler cannot stop reading about Galilei's observations until the end of the small book, because the observations therein fit perfectly with his theory of planetary laws. An exchange of letters between Kepler and Galilei about the new cosmos develops. This is an exciting expedition of human intellectual ideas – and simultaneously it is the Turn Towards Modern Times.

Thomas de Padova  (* 1965 in Neuwied on the river Rhine) is a German scientific publicist.
De Padova studied physics and astronomy in Bonn and Bologna. Between 1997 and 2005, he was a scientific writer for the "Tagesspiegel". After 2005, he started working as a freelance scientific author. De Padova lives in Berlin and has been a member of the "Kuratorium of the Magnus-Haus of the Germany Physicists Association" and a member of the program the Program Committee of Urania since 2006. In January and February 2014, he was the "Journalist in Residence" at the Berlin Max-Planck-Institute for Science History. [Text: from Wikipedia]
Thomas De Padova is also the author of the science book of the year "The Secret of the World – Kepler, Galilei and How the Heavens were Measured", which was selected best science book in the category natural sciences/technology by 20,000 readers in 2010.
The presentation will be on Thursday, October, 23rd, 2014 at 6.30 p.m. – we will welcome guests from 6 p.m. in the seminar zone of our Unterhaching InterFace AG building.
As usual, you can register by sending an E-Mail. As always, we already look forward to exciting discussions and nice conversation!
RMD
(Translated by EG)