Roland Dürre
Friday August 30th, 2013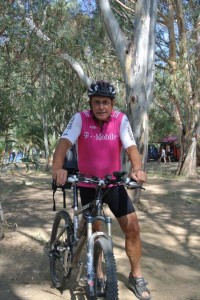 The vacation is nearing its end – on Sunday morning, we will go to the Patras ferry heading towards Venice.
Again, we had wonderful days. We have now been staying here for two weeks – and I feel two years younger.
Each day, I went for a swim in "our beach" in the morning. And once a day, we went into the dry heat of these altitudes by bike.
🙂 As always, I wore the Telekom outfit.
We climbed passes and mountains, enjoyed the fresh breezes and the tepid water of the Mediterranean Sea.
Our senses were captured by the aromas and sounds of the South. And all the meals were fresh and delicious.
So here I am, thanking all those people who, once again, have made it possible for me to enjoy this wonderful time.
RMD
(Translated by EG)