Roland Dürre
Friday December 18th, 2009
Another 6 nights before Christmas!

Hurrah – today we get our Christmas tree!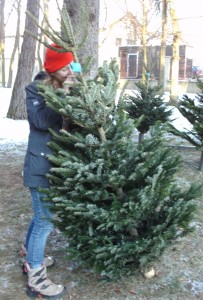 Each year I wonder if we should set up a Christmas tree. All our children are grown up. And in a way, it is a strange habit, isn't it? Hang the tree with ornaments, add candles and light them. Admire the lights.
We decided to do it again. This year, it is really worth the trouble. There will be many of us on Christmas Eve. All seven children, some with their friends, and grandmother, too, will be celebrating with us.
And the candles will probably be reflected in 24 pairs of eyes. And all the eyes will gleam. It is a beautiful scenario.
🙂 But we will not sing around the Christmas tree!
RMD
(Translated by EG)