Roland Dürre
Monday February 4th, 2013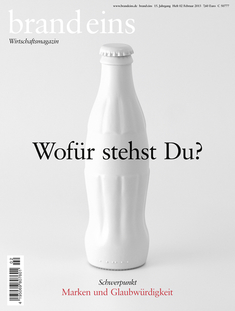 Last Wednesday, it was sitting in my letter box: the February edition of "brand eins". From the outside, it looks a little colorless. Since the focal topic is "Brands and Credibility", this is not a surprise, is it? Neither does the question written on the milky coca-cola bottle make sound particularly glamorous: "What are you standing for?".
I am sure the question is not addressed to me, but rather to the brands. And there is really nobody who knows what they stand for. What we do, however, know is what effect they are supposed to have: promote blind consumption and thus increase turnover and profits of the enterprises.
A short time ago, I went to see "Felix Krull" at the Volkstheater. They had printed a great interview with a psychologist in the program brochure. Apparently, the psychologist had studied "impostors and imposture" intensely. He called marketing and branding just another form of "systematic and goal-oriented imposture".
But now about the magazine. After all, I went to Augsburg-Hochzoll by train on Friday evening, which gave me the opportunity to already read many of the articles. As always, they were well researched and contained interesting enterprises and respectable opinions.
However, if I read brand eins correctly, then the topic "brands" was strongly disenchanted. They are supposed to build up trust. Yet, most of the enterprises seem to use them just in order to get some advance trust which, however, is not or cannot necessarily be lived up to. Or else they want to combine the "convenient and the useful".
In that light, it is an edition that shows me as (hopefully ex-) " believer in brands" how much I was made a pushover. And how I spent good money for nothing but "hot air". And that, after all, marketing – above all – creates brands that basically say nothing about the rest of the enterprise. Essentially, we are talking the generation of schizoid enterprises through willful camouflaging of reality using lies.
RMD
(Translated by EG)
P.S.
😉 A minute ago, I heard in the news of today what slogans one of the two "Deutsche Bank" directors uses in order to make it a "brand" – and yet he wants to continue the gamble with food certificates Well, it seems that here is one person who has not yet read the February edition of brand eins.
P.S.1
🙂 Basically, I am (not) surprised to see how many "brands" are, again, prevalent in this brand eins edition with their adverts. It is called capitalism.    
Didn't Marx say: "The capitalists will sell us the rope we will hang them by"? And they say Marx is now again fashionable.