Roland Dürre
Sunday August 29th, 2010
It is not like things have to remain like they always were!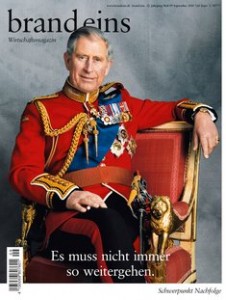 By now, I assume it is already lying in my letter box at home: the September issue of "brand eins". Since, however, I am currently staying in Greek, I cannot read it. This year, nobody will bring it, either. What a pity – there is so much time for reading right now.
The small village of Gythio, final destination of the Europastraße that starts at Malmö with 7,000 inhabitants and an international harbour where yachts from many countries call, has a well-organized newspaper shop. Among other things, you can find quite a few German newspapers, such as the "Süddeutsche", the "Frankfurter" – for connoisseurs even the "Züricher" – and magazines, such as the "Spiegel" or "Stern".
But there is no "brand eins". Consequently, I cannot write a review.
Instead, I now make use of a commodity that has always been important …
… and will get even more important in the future – trust. And Frau Fischer and her team are the kinds of people I trust to have again put something on paper in September that is really great. This is why I now recommend you read the magazine, even though I have not yet read it myself.
Succession is definitely a topic I am interested in – after all, I am 60 years old already. And I have known for quite some time that it is not like things have to remain like they always were! The cover picture, however, makes me thoughtful. In a way, it is fitting for September – just look at all those autumnal colours.
Thus, I have to remember that, as soon as we are back home, summer will be over and we will have to contend with eight long months of non-summer. Yet I already look forward to sitting on my patio some Indian Summer day with a blanket wrapped around me and reading the "brand eins" of September.
RMD
(Translated by EG)
🙂 This is not meant as an anti-thesis: This is how it is, this is how it shall continue to be (Me and Me):
🙂 Nicht als Gegenthese: So soll es sein, so soll es bleiben (Ich und ich):