Roland Dürre
Wednesday September 19th, 2012
About the raftsman who would like to have a lunch break.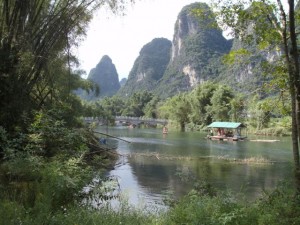 There are three of us going down the river Yulong on two rafters. We pass our hotel on our way towards the destination. Shortly after this, our rafter stops at a floating snack platform. He fastens the rafter and jumps over.
A lady from Malaysia who is also on vacation is already sitting there and doing the translation for us. The raftsman would like to have a short lunch break. Do we mind? We are assured the journey will soon continue.
We are on vacation, so there is plenty of time. Of course, we agree. We drink a glass of beer while he eats his fish. As always, we are treated in the most friendly way.
It seems that the raftsman and the snack saleslady know each other quite well. The food on this floating island looks delicious. They advise us to buy some fish.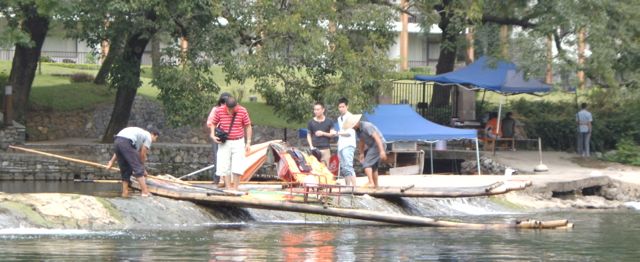 Since, however, we have made our plans already, we are going to eat later. Still, we take one bottle of beer (595 cl) for the three of us.
Regardless of the fact that we know quite well how, in places like these, beer is extremely expensive, rather like at the Munich Marienplatz.
Then we continue. I want to pay for the beer. As expected, it is rather expensive. I nod my head without bargaining and get my purse.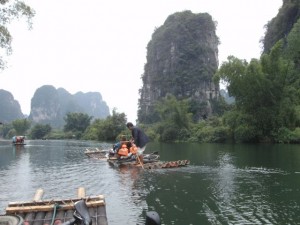 The snack saleslady is encouraged by this. Now she thinks I should also pay for both glasses of beer our raftsmen have had. She tells us all this with real nice gestures and a very friendly smile.
I refuse. And I seem to get my way. The raftsman gets on the rafter with us and we continue on our journey. And apparently, the raftsman never paid for his snack.
My insistence not to pay, however, does not make the slightest difference with his friendliness. After all, this is just him not making even more profit. All you can do is try, isn't it?
I could relate quite a few similar stories to you.
RMD
P.S.
Incidentally, my totally harmless rafting trip was illegal. It was not permitted for children under six and adults over the age of 60. A poster announcing this rule – like many others – is posted quite prominently. Yet nobody seems to care – which is also true for other rules, such as you have to wear safety belts, you may not carry a camera or electronic device… – these rules are simply ignored.