Roland Dürre
Friday July 17th, 2009
Yesterday morning, I thought I was dreaming. What I saw was mushrooms growing on our asphalted driveway in Riemerling, which is in the south-east suburban area of Munich. They are really big and grow right out of the tar. Before today, the common dandelion had been the only plant daring to grow there.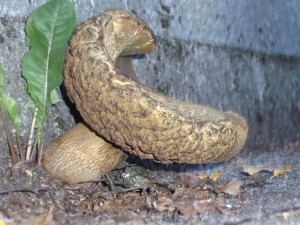 Today, I took a picture of one of our new mushroom. It could belong to the type , which is a sort of mushroom that, even though it is not particularly tasty, at least can be eaten during the early phases of its growth. This new boost fertility must be due to all the rain and high humidity and temperatures we have had recently. Is it also a consequence of the climate change?
Along with the mushrooms, memories bloom: when I was a child, I often went picking mushrooms with my parents. South of Augsburg (and not only there), not far from Friedberg, there were wonderful mushroom districts. The places had names like Rinnenthal and Hügelshart. Those two places were connected by a small street and even smaller roads led into beautiful forests.
In the late 1950ies, and still in the early 1960ies, each year brought an abundance of mushrooms. We found all kinds of edible fungi: yellow boletus, boletus badius, versipelle and duriusculum, chantarelle, and many more. During the summer, we spent almost every Sunday "mushroom hunting".
The most precious yellow boletus were processed into delicious meals and partly laid out on old newspapers to dry in the summer sun so they could be eaten later in the year.
Today, what used to be a small street is a broad street and the small roads are now asphalted streets. Houses have been built nearer and nearer to the forest and the mushrooms disappeared. Once in a while, you may luck out and find a boletus badius, but that is about it.
Thus, the fungi growing in my driveway also make me a little sad.
RMD