Roland Dürre
Tuesday January 10th, 2012
In the evening of Wednesday, January, 25th, 2012, Dr. Klaus-Jürgen Grün will give a presentation at an IF Forum EXTRA on
The Art if Thinking Negatively!
at our Unterhaching office building. Klaus-Jürgen already talked to us in summer 2009 at the IF Forum. At the time, he fascinated us with his presentation on Brains or Guts (Kopf oder Bauch).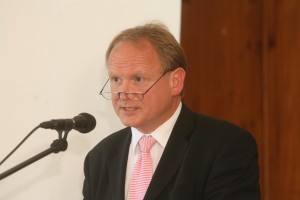 Since Klaus-Jürgen will be in charge of a seminar all day on January, 26th for the IF AGORA on "Fahnenbildung", he is scheduled to arrive in Munich on Wednesday.
Consequently, we spontaneously decided in favour of an extra IF Forum.
All friends and acquaintances are invited. The email invitations will be sent to our usual IF Forum attendants shortly.
Interested parties, as well as – in particular – our "regulars", are welcome to register immediately with Claudia Toth.
The presentation will be held at the seminar zone of the Unterhaching InterFace AG building. Guests will be welcome from 6 p.m. and the event will start at 6.15 p.m. As usual, we will prepare for a comfortable round of talks and refreshments after the presentation and discussions.
Klaus-Jürgen Grün published a number of essays exclusively in the IF-Blog. For more information on him, see Wikipedia.
Apart from this special presentation, we chose the topic sustainability for the evenings of our IF Forum in 2012. We already started contacting interesting potential speakers.
Moreover, we plan a "Technological IF Forum" at Unterhaching in co-operation with the Ronneburger Kreis. Over the year, this forum wants to discuss if "ethical behaviour and business success" contradict each other, or if they can be combined quite well.
As always, our "Technological IF Forum" will be held at an afternoon early in the summer. Several contributions will be combined and then end in an interesting discussion. The theme of our 2010 "Technological IF Forum" was  Agile Software Development (Agile Software-Entwicklung) and that of 2011 was Humans&Management (Mensch&Management).
Of course, all our presentations will, if possible, be made available on the internet and at Youtube. Everything will be as usual – and there will also be an announcement here in the blog and at IF-Open.
RMD
(Translated by EG)