Roland Dürre
Wednesday October 7th, 2009
A really very long time ago, we set out on our Konrad-Zuse bike tour. The entire team of InterFace Connection GmbH (which later became InterFace AG) went to Hünfeld by bike to visit Konrad Zuse. Since Hünfeld at the time was close to the so-called "zone-border", there were several stages to the tour.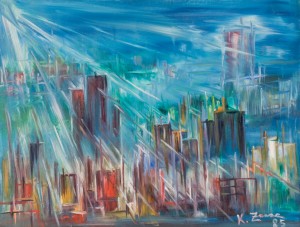 For three years (1985 – 1987), we covered one leg of about one week every year. (We went parts of the way by bus. Of course, today we would have gone by bike all the way). Eventually, we were cordially welcomed by Konrad Zuse in his own house.
In the evening, there was a great welcome party in the central restaurant of Hünfeld for us and the Zuse family. Konrad Zuse was truly delighted and spoke enthusiastically (there is even a video of his speech). He found it very touching that people had come up with the idea of coming to Bad Hünfeld for a visit just to see him.
In his presentation, he said it was his heart's desire that people might again be able to go by bike from Hünfeld to Dresden, where he would very much wish to visit his friend  Lehmann as easily as we had now visited him. But he believed that was never going to happen.
Later, in 1989, I went to Dresden to visit Gerhard Saeltzer. We organised the "First German-German Symposium on Modern Software and Computer Systems – SoftSys" together. To my surprise, on the floor above us, in the same building, lived no other than Joachim Lehmann. I remember the name plate well. The world is, indeed, a small place.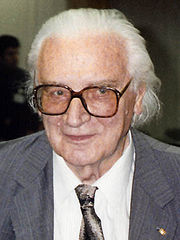 Konrad Zuse was a pioneer and visionary. He was fascinated by utopian ideas.
He became an IT pioneer because he was a professional contruction engineer. Being fed up with all the computations that came with the job, he decided that a machine should do the calculations. Consequently, he built computing machines. The first of these machines were mechanical devices, later came the electronic variety. He also invented the binary system.
We were allowed to see his studio. It was full of beautiful pictures and daring visions of city life. He gave us the above picture as a present. Today, this picture is hanging on the wall behind my desk. If you want to come and admire it, you are welcome to visit me.
I rather like this picture. It makes me think of an absurd and synthetic city.
In the "Middle East", skyscrapers and futuristic cities have been built into the middle of the desert with unbelievable speed over the last few years. I wonder what will happen to these desert cities when the oil has ceased to flow.
RMD
(Translated by EG)
P.S
The portrait of Konrad Zuse is by Wolfgang Hunscher, Bochum. He painted it around 6 years after our visit to Hünfeld. Wolfgang Hunscher published it in wikipedia – many thanks!