Roland Dürre
Tuesday October 4th, 2011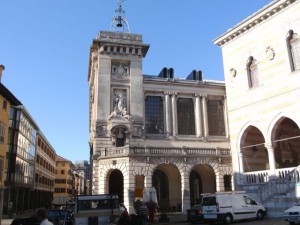 There is not much to report about our last leg. I will just let the pictures tell their own story.
We knew Udine from Sunday night when we arrived in the dark. In the morning, before we departed, we strolled a little through the city centre. It is no problem at all to stroll through a city by bike. And it is always worth the effort.
And then we started the last "official" leg of our bike tour. The weather was just as always: we started with summer termperatures.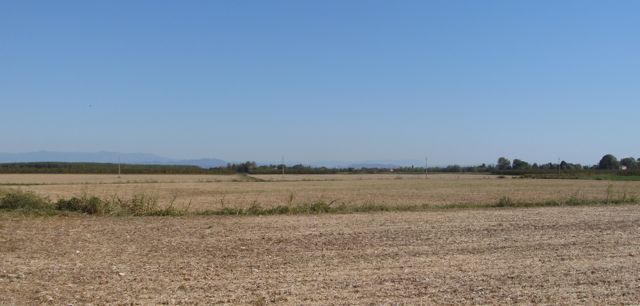 We do not have very far to go. Just a little less than 60 kilometres from Udine to Grado. There is nothing spectacular to see there. The road is on one level, there are no inclines that deserve the name.
All mountains definitely lie behind us. Only far away, you can see the Alpine borders looking like a mild chain of hills.
First, the cyclist's path makes a long turn to avoid the highly ferquented state road to Grado. Then we are back on it: the famous and highly praised Alpe-Adria-Cyclist's-Path.
The hundred metres of altitude accumulated at Udine are quickly used up. After that, the remaining way is just over zero altitude for a long time. Only the south-easterly wind coming from the front slows us down a little.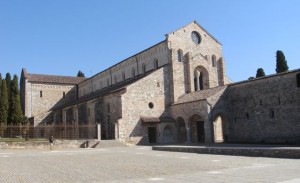 Since the way is short, we do a little more "sight seeing" than usual.
We visit the old Forum of Aquileia on the Via Julia Augusta and then, as a true highlight, we go to admire the famous mosaic at the Sta Maria Assunta Basilica.
And then here it is: the causeway to Grado.
The cyclist's path is not stabilized but separated from the street. It is rather hard to ride on with the cover it has. But so what – we only have to go six kilometres until we reach the beach.
This time, looking for a hotel does not take any time at all. We liked the second one we saw – it is the La Sirenetta. Our room has an "ocean view" – it is directly on the beach. The first thing we do is, of course, go there and enjoy the shallow salt water of the lagoon.
Basically, this is the end of our tour. But since it is so nice, we are going on towards Venice tomorrow. We will look for another nice hotel on the beach for Tuesday night.
And on Wednesday, we will finally continue to Venice. Perhaps we can take the water taxi from the Lido directly to the railway station. Then we have to deposit our luggage and bikes, see a little of Venice and head for our small sleeping compartment on the train to Munich.
RMD
(Translated by EG)