Roland Dürre
Wednesday October 5th, 2011
🙂 This is another leg of the journey where all that needs to be said is basically that it was, again, wonderful. As usual, the weather was great. I guess my dear readers might actually feel a little bored with the same old story every day.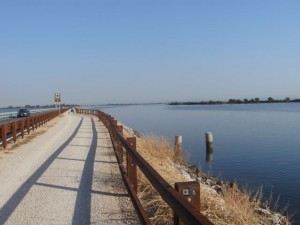 For a change, we had to find our way without our "guide on paper". Thanks to the map and GPS, we found quite a nice route. We even managed to avoid some streets with very high motor traffic.
We almost always rode on small, paved country roads. We made excellent progress and enjoyed two rests on the way:
One consisted of a nice snack for an early lunch with perfect Italian ice-cream at the bar of a Pamalata production firm. In the early afternoon, we took a second break at the restaurant you see on the picture.
Eventually, it was early enough in the afternoon at Cáorle for us to (successfully) look for a hotel and then go down to the beach.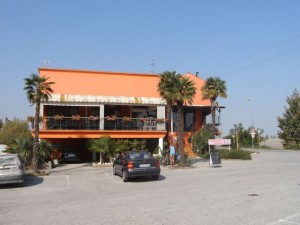 After our check-in at the Austria, we immediately went to the beach, where we probably took our last Mediterranean swim of this year.
It is definitely a very special pleasure to go swimming in the Mediterranean on a bike tour in October.
And then you top it all by lying in the sun and enjoying the surroundings. This is what I call a Golden October.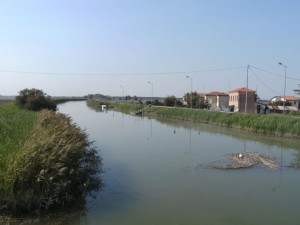 The Hotel Austria was one of the few that were still open.
Our evening stroll in Coral also showed us that the Adria season for this year is apparently now a thing of the past. For us, the bike tour Alpe-Adria will be a thing of the past tomorrow…
In Jesolo, we will decide whether or not to go on to Venice by bike. If not, we will take the shortcut via Cavallino by ship. It would leave us with but a few hours in Venice before the night train to Munich departs.
After all, I am going to Zurich tomorrow.
RMD
(Translated by EG)
P.S.
Here is some technical information: today's leg, including the way it took to look for a hotel, was 83 kilometres. All in all, we rode about 620 kilometres in seven days.