Roland Dürre
Sunday June 12th, 2011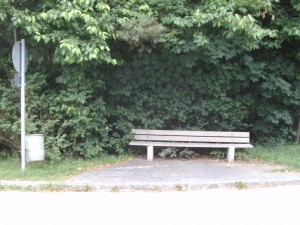 It is a fresh an crisp Sunday morning. I ride my bike to the bakery at Putzbrunn and enjoy both the day and the way…
A young man is sitting on a bench not far from the Ottobrunn railway station. Now that is something I would call rather unusual at this time of day.
He looks personable enough. His clothes look nice and clean. Actually, it might even be a woman. I cannot really tell the difference at first sight.
Taking a closer look, I discover that it is, indeed, a young woman sitting there. She is just lacing her shoes. A non-alcoholic drink is placed next to her on the bench.
Riding my special-seat bike, I pass by her at a considerable distance.
I hear her yell at me. I am aghast. But why? It is not her fault that I pass her on this way, is it?
On the way back from the bakery, she is still sitting there. She notices me and says only one sentence, but in a very loud voice:
What a beautiful bike!
Not knowing how to react – I continue on my way. I pass the bleak Ottobrunn railawy station and ride home to Riemerling. And long afterwards, I still remember the strange encounter.
RMD
(Translated by EG)