Roland Dürre
Sunday August 29th, 2010
Tonight I was woken in my tent nine times. Between three and four o'clock in the morning. Some messages that were supposed to have reached me on Saturday afternoon arrived. Here is how it happened:
Last Saturday, Haching played Rostock and lost 7 : 2. Even though I had expected they might lose, it was rather bitter. My daughter Sabine is currently on vacation near the Baltic Sea. She took advantage of the opportunity and went on a short trip to Rostock. Consequently, she witnessed the drama. And since I was riding my bike in Greek on Saturday afternoon 3 o'clock local time, I asked her to send me a report on all the goals as they happened.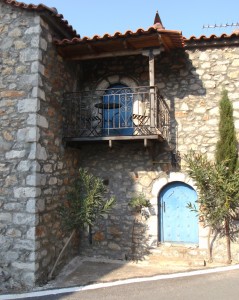 The bike tour was great. I went from Porto Ageranos towards Aeropolis, then west via Germa and Karea to Ithilio and then back on the communication road Aeropolis Gythio and back to our tent. I rode more than 42 kilometres and covered almost 1,000 metres of altitude. Just wonderful.
During the bike tour, however, no SMS from my daughter arrived, regardless of me having the best possible of radio reception everywhere. Well, I thought, it is possibly not a bad sign, because maybe "no news, good news". Fans are always full of hope without the slightest bit of rationality.
During the night, all the SMSes arrived. One for each goal. The time stamp was correct, but some of the sequences were not.
Assuming that an SMS from Germany to Greek should take less than five minutes, something is wrong if it arrives more than 12 hours late.
Is there some kind of "Service Level Agreement" where it says how long an SMS may take? What would have happened if the SMS had had real relevance, for instance if it had contained a password for access to a badly needed document? This has nothing to do with "telecommunications quality"!
Can I protest somewhere – or get my money back? Or is this how the big concerns systematically educate me until reliability, like everything else, is no longer so important – as long as I pay regularly?
On the whole, I find this annoying. More and more, I get the impression that the big concerns can get away with everything. This seems to be true for public transportation in the same manner as for the producers of luxury limousines. And the communications supplier is just as brazen as the electricity company.
And I look stupid. Except with KiK (cheap clothes). They say: the customer is king. The acronym says it all – at least allegedly. To make up for it, the employees and/or suppliers are the ones who look stupid.
It seems to me that today every business needs someone who looks stupid and is taken for a ride. And it no longer has anything to do with business ethics or honest merchandize. All I can see there is greed of gain.
RMD
(Translated by EG)