Roland Dürre
Monday April 12th, 2010
Here is my report of the last leg: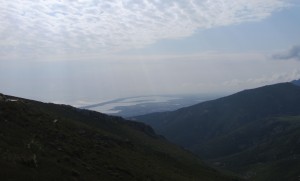 For the first time on this journey, we set the alarm clock on Saturday night. On Sunday, 7.30 a.m., the omnipotent mobile phone Barbara is carrying played a classical tune, inviting us to get up.
Shortly before eight o'clock, we were sitting over breakfast at the Hotel Central of St.-Fleurant, ready for departure. Col de Thegime was beckoning, and we had to board the ferry at 12.30 p.m.
Consequently, we departed at 8.30 p.m. for Patromonio. The weather was diverse for a change (there were actually some clouds) and we crossed the Corsican wine region. On this way, you cannot go more than a hundred metres without seeing a vintner. They all invite you to test and – of course – buy their wine.
In Patrimonia, the way up really started. This was the last time we rode up a Corsican pass. Somehow or other, I felt a lot more comfortable than the last time. The mountain seemed to melt under my bike. And when we arrived on the pass (at an altitude of approximately 600 metres), a most spectacular view appeared: you were able to see as far west as east. Again, it was breathtaking scenery.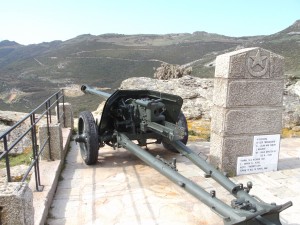 However, standing on top of the pass also made me a little thoughtful. There is a memorial reminding people of the victims of the Corsican liberation in 1943. It was Berbers who freed Corsica, making it the first French department to be liberated from the German occupation. And it cost them quite some blood and tears.
On my travels in Africa, Europe and Scandinavia, I have seen these kinds of memorials too often. Unfortunately, they were mostly about the liberation of a country or region from the German occupational forces during WW-II. And that always saddens me.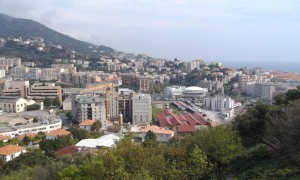 Well, the nice decline to Bastia and the last beautiful views from above onto the Corsican scenery put an end to those black musings. On arrival in Bastia, the weather, too, was again really nice and warm. Many people had assembled on the great plaza in front of the harbour. There was also a huge flee market. In addition, there were numerous "Boule" players, groups of people chattering and many full coffee houses.
But then came the time for getting serious. Seemingly to bid us farewell, dark clouds appeared, and a thunderous storm started. We fled into the harbour building and waited for the ferry to arrive. It arrived and we were transported to the open ocean through the wind in time. During the first few miles, the ship rocked so hard, I was afraid I might get seasick.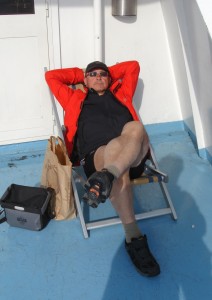 On the last third of the four-hour-trip, the spook was over and the sun returned. I was able to enjoy myself lying on a lounge chair and relaxing in the stern deck.
The ferry arrived half an hour late at Livorno. As a consequence, we missed the direct connection to Florence we were going to take. Instead, we took the train that left one hour later, with a change in Pisa. If you carry bikes, this is not all that delightful, but the vacation on the whole was well worth this extra trouble.
Well, and then we stood at Florence railway station, waiting for our night train to Munich-Vienna. It was late by 40 minutes, which made the already short night even shorter. Regardless of the delay on departure, we arrived at Munich Central Station on time at 6.30 a.m. and rode our bikes to our "sweet home" in Riemerling.
I spent some hours of this morning – not quite as many as usual – in my office at Unterhaching. After lunch, I decided to do the rest of the work out of my "home office". I am still there and I hope to fall into bed directly from here.
But riding our bikes on Corsica was a wonderful experience. I am sure I will cherish the memory for a long time.
RMD
(Translated by EG)