Roland Dürre
Wednesday August 31st, 2011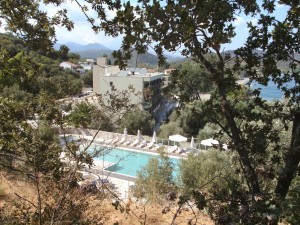 Last Saturday morning, when we were riding up the incline towards the "Vasily" (another restaurant where you can eat well and enjoy the beautiful scenery) on our bikes, we saw how the tables were being ceremonially decorated on the hotel patio of the "Beautiful Helen". This kind of thing usually means a noisy night. So this Saturday was another one of those days.
The Beautiful Helen is a small hotel. It only has three storeys, one sweet-water pool, a few sunshades and a small bar on the beach. You only have to go a few hundred metres from our tent, it is on the same beach. Just a truly Porto Ageranos hotel. In fact, it is a rare thing around this region.
And, indeed, Saturday night was quite busy at the "Beautiful Helen". The music was noisy, it sounded like a live band. You can hear people are letting their hair hang down. But the low basso sounds of the music also drone all over the beach.
I hear others snore, but cannot go to sleep myself. Some way or other, I never manage to just close my eyes and slumber a little with this kind of noise around me. Early in the morning, the band says good-bye and yet plays another encore. At least three times, which feels like five times.
I still remember how I used to get upset with this kind of noise in former times. And I am happy about now being able to look upon it with much more serenity. It seems that, in old age, I am getting more relaxed. What a nice feeling!
RMD
(Translated by EG)