Roland Dürre
Tuesday April 10th, 2012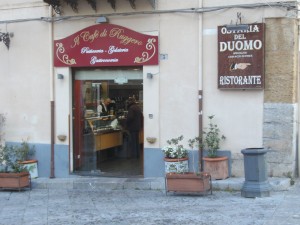 Today was one last beautifully strenuous and also otherwise wonderful bike day.
It was strenuous because gusty winds were blowing all day long – and then more than 1,000 metres of altitude were added to the bill.
It was wonderful because the sun shone all day, giving us beautiful light and the road was really in good condition. The SS 113 was far less frequented by cars than we had feared. And we managed to ride very nice detours that again provided us with much to see and admire.
But here is my detailed description.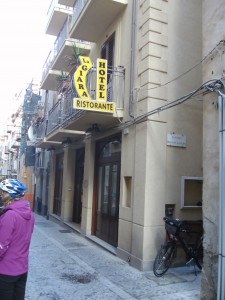 In the "Il Cafe die Ruggero", we are allowed to eat breakfast. Then we continue to the hospitable hotel "La Giara". We brush our teeth, pack our luggage and prepare our bikes.
At 9 a.m., we depart towards Campofelice. As early as the first leg, we feel the headwind strongly. It makes us slower, both down the hill and up.
Then we continue towards Términe Imerese. We leave the SS 113 before we reach the town, ride through an industrial zone that is Easter-Monday hibernating and then struggle on a street directly next to the beach to Términe Imerese. When I say struggle, I mean struggle, because the headwind gets stronger and stronger.
This very picturesque and small town, too, offers a special Easter-Monday quietness. We manage to pick up a few strawberries and oranges before we continue on our way.
By now, there is no longer any Easter quietness. They celebrate Easter parties all over the place! There is the smell of barbecue and good food. Music and laughter lie in the air.
The nice smells are not the only reason why we, too, get hungry. Near Trabia, we leave the main road and comb through the small, endearing town several times, looking for food.
But we are too late – all the shops are closed or closing. Among them one of the bakeries where we just managed to buy a delicious loaf of bread. After us, this baker, too, rolls down the awnings.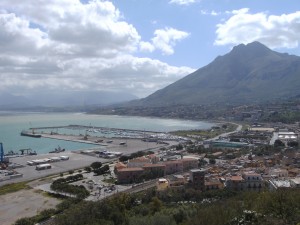 Back on the street, we look for a nice "picnic" location. And all of a sudden, we see an open Ristorant on the left side of the street. Life is full of surprises!
Since we are more than a little hungry, we decide to go eating there, regardless of the bread we bought. And they actually have something to offer us. We eat another delicious meal. It seems like the Italian cuisine wants to beat itself in the south.
After a short pause, we continue. Always against the wind. And since it is so nice and we still have enough time, we decide on a visit to Capo Mongerbino. Consequently, we turn towards Porticello before Bagheria.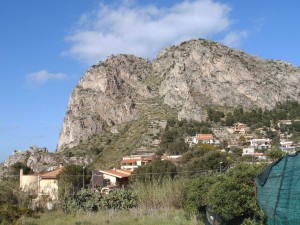 A small road snakes from there to Santa Elia, going through two mountains to Aspra. It is a wonderful detour. Except that, shortly after Santa Elia, they again put some signs telling us the street is totally blocked.
The signs look old and the cars do not seem to take any notice of them. Besides, we already have experience with blocked streets, don't we? So we just ride on, wondering what will happen. It works quite well. The street is perfect. No problem at all.
As we turn towards Aspra, I take a closer look at the gateway. Indeed, the street is blocked on this side, as well. Surprise, surprise …
Due to our detour, our approach to Palermo is rather fortunate. We already selected a hotel. Shortly before we arrive at the hotel, Sophie suffers her third flat tyre.
The hotel, however, is fully booked. The friendly lady at reception recommends another hotel nearby and even makes a reservation for us. Being an extremely likeable gentleman, the patron of that hotel serves us very well.
We occupy two really huge rooms, both near the harbour and the centre of the city. It is a lovely area. And there is a shed for the bikes ….. and WLAN.
The puncture in Sophie's tyre is also easy to find (this time, it is again the front tyre) we already have some experience with this…
Right next to our hotel, there is a small vendor selling local delicatessen. After a little stroll through Palermo (it is a little eery), we buy miscalleneous appetizers. We eat them along with the bread we had not needed for lunch and are the happiest people on the world.
Tomorrow, we will explore Palermo, before boarding our ship in the evening. Bye, Bye, Southern Italy.
RMD
(Translated by EG)