Roland Dürre
Tuesday April 3rd, 2012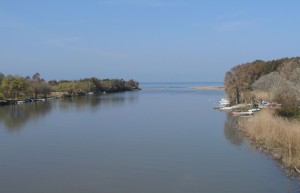 We wake up to a wonderful Italian Monday morning at Salerno. For breakfast, they serve – among other things – several delicious sorts of cake. As early as 8.30 a.m., we are all packed and ready to depart.
The first day on the bikes is always special. Instantly, I get it again, that memory of the special Italian bike feeling. All this warm sun, the special light, the many smells, the chirping of the crickets…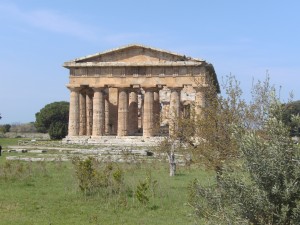 Soon after we leave Salerno in the direction of Paestum, there is even a cyclist's path separate from the street.
However, the first few kilometers of it are not really usable. Many shards of glass make us sceptical. Consequently, we prefer to ride on the street. Traffic is still dense, but gets less the further away from the city we are.
With more distance from Salerno, the shards on the cyclist's path also get fewer. We can now use it. Before us, many lizards use the path. And the first not always appetizing girls working the early shift are also taking up their places already.  But that, too, gets better as we near the Papal regions.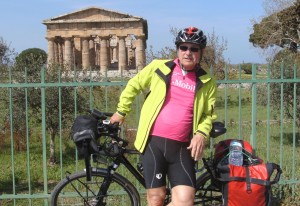 Paestum is a truly miraculous place 30 km south of Salerno. With its many columns and temples, it is very beautiful. For us, it re-awakens ancient times.
We admire the temples, use the discreet tourist's facilities and, after not having stayed too long, we continue on our way. Our next leg is to Ascia. It is more than 90 km from Salerno. According to our sources, hotels will be open.
We arrive at Ascea shortly before four o'clock. Basically, this is too early to call it a day. Consequently, we think Capo Palinuro with its grottos might be attractive. Allegedly, there are hotels directly facing the ocean. On the map, it looks quite near. So we start towards Palinuro.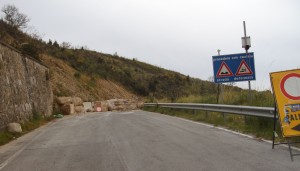 And we soon discover that there is a considerably incline between Ascea Marina and Palinura. In other words, we now have to start off with having to push our bikes 200 metres of altitude on the steepest street I ever remember.
And things are not getting any better. As always, there is the next ascent after the abrupt descent. From there, the street to Palinuro has a road block. It is a truly massive affair. After 6 p.m., you cannot pass. We do not find the prospect of going back attractive at all.
It is still really light. So we continue on! Twice in a row, we have to circumnavigate rather stupid barriers. Then they are behind us and we can go downhill again! The entire affair cost us real time and energy. But then, what else are these kinds of bike tours supposed to do?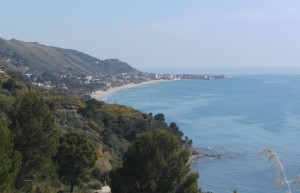 And then we arrive at our personal paradise. In the picturesque village of Pisciotta, we discover the "marulivo".  It is a beautiful hotel situated in a building that looks like a castle. On the market place – it also looks ancient – life is thriving. And at the "marulivo", there are some nice vacancies. We can see the ocean from a great height. It is fantastic.
Once more, we carry our bikes up many steps to the hotel – and after having taken our showers, we meet at the hotel patio. As a reward for the drudgery, I treat myself to a beer – and to a wonderful view of the Mediterranean.
Dinner at the recommended restaurant tastes delicious. The wine is exquisite – and then we are tired enough to collapse onto our beds.
What a wonderful world!
RMD
(Translated by EG)