Roland Dürre
Wednesday April 4th, 2012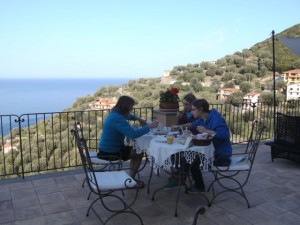 Today, we were lazy. At our luxurious hotel, breakfast was served from 8.30 a.m. – and it was something you can definitely call breakfast. It was true luxury on the patio, including a terrific view. High above the ocean, surrounded by beautiful scenery.
Then we went to the Capo Palinuro grottoes. The way to the tourist's harbor of Palinuro was about 10 kilometres. The first two of those kilometres were a steep incline, than a long descent followed.
Allessandro, who organises the boat trips, had been contacted from our Hotel Marulivo. He was already waiting for the "four bikers from Germany".
And then Allessandro and the guide Gino started with us in a small motor boat on the way to round Capo Palinuro and admire the four grottoes:
La Grotta Azzurra – the blue grotto;
La Grotta del Sangue – the blood grotto;
La Grotta dei Monaci – the monk's grotto;
La Grotta Sulfurea – the sulphur grotto.
Allesandro did the steering while Gino did the talking. In this way, we heard many things we had not known before about Southern Italy. That is the advantage of not travelling in the high season. Nobody is crowding the place, everything is stress-free and the people are happy to have us.
Unfortunately, the waves were rather high on the eastern side of the Capo Palinuro. Consequently, we were not able to drive into the Blood and Monk's Grottoes. Regardless, it was a beautiful boat trip. Of course, the sparkle of the Blue Grotto was particularly impressive.
Now I also know how this sparkling effect is achieved. It is quite simple: there is a subterranean tunnel leading into the ocean. Consequently, the water in the tunnel has an effect similar to a glass fibre cable, transporting the light of the sun into the cave. And then the water inside the cave will magically sparkle blue.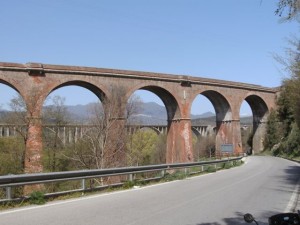 On our return from the boat trip, it is already early afternoon. And we have only gone 10 kilometres by bike. There is no chance for us to reach Palermo. So we have to speed up. First we ride along the course of a river up to Cello. Then a few metres of altitude and down to the ocean and along the coast to Sapri.
We easily found the Hotel Tirenno, booked ourselves into the hotel and ate dinner. After a stroll on the boulevard, we retire early.
After all, we definitely will have to ride closer to 100 kilometres tomorrow if we want to arrive at Palermo on time.
RMD
(Translated by EG)