Roland Dürre
Tuesday May 1st, 2012
This is our firth day "on the road". And tomorrow will mark the end. At 4 p.m., our train will leave Berlin Central Station for Munich Central Station.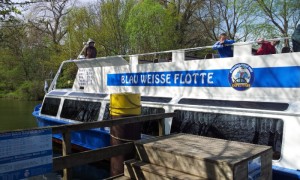 Consequently, we want to reach a place that is "within a reasonable distance" from Berlin on this last day of April 2012. And it turned out to be the best of all days.
Shortly after 9 a.m., we leave our friendly hotel and first ride to the harbour of Waren. And, surprise, surprise, a small ship is just making ready for departure. Its destination is the opposite end of the lake, which brings us nearer to Berlin by 25 kilometres.
Without much ado, we board with our bikes and enjoy 90 minutes on the "small ocean". Because we learn – among other things – that Müritz is originally Slavic, that the ending "itz" is a diminutive form and that "Mür" means ocean. Not bad, is it?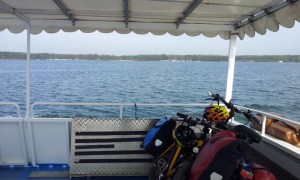 The two of us enjoy the ocean trip and the best of weathers (so do our bikes). It is just great. We also learn that the Müritz is the biggest German inland lake. The only competitor would be the Bodensee, but it also belongs to Austria and Switzerland. At 11 a.m., the ship gives us free at the Boeker Mill – and now we have 110 wonderful kilometres to ride ahead of us.
We pass Rechlin, Mirow, Wesenberg, In Fürstenberg, we are reminded of the atrocities of German history. Himmelpfort feels like paradize.
Then we arrive at Zehdenick and from here, it is not far to our destination – Liebenwalde.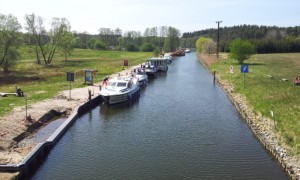 The entire way is just one huge piece of pleasure biking! Soft hills, green landscape, again and again lakes, channels, water-gates. The entire country looks like a single large vacation paradise. But totally authentic. Just a fairy tale. But instead of Disney-Land, you get a beautiful landscape, even if frequently marked by the years gone by.
We meet many happy people and enjoy two wonderful rests – and shortly after seven o'clock, we can practically see Liebenwalde. And what a coincidence: right next to the cyclist's path, along the channel, we see the hotel "Preußischer Hof". There are still some vacancies. In the evening, they dance into the May and have a May bonfire.
We gladly stay. The hotel is one with history. And it has some charm, even though it cannot deny its GDR past. Finished in 1791, the first person it served was Frederic William II for horse breeding. In 1813, it became a military hospital, and in 1899, the biggest champignon plantation of Germany was right here. From 1934, it served as a Landjahrheim with leadership camp.
In 1936, the Reichsinnungsverband of the shoemakers bought it and the building was converted into a Reichs School. And then, on May, 14th, 1946 the SED first made it the party high school "Karl Marx", then the Berlin Regional Party School "Friedrich Engels". Later, it was used for housing the school of "Politleiter of MTS", until it then was made "Institut zur Ausbildung von Funktionären für die sozialistische Landwirtschaft" until 1989.
Yes – and then, like many other buildings, it became part of "Treuhand". And tonight I will sleep in these historical rooms. Tomorrow, we will only have to ride a stone's throw to Berlin (about 50 kilometres). Chances are quite good that we will actually catch our train home.
RMD
(Translated by EG)