Roland Dürre
Saturday May 28th, 2011
Or:
Stories from an evil time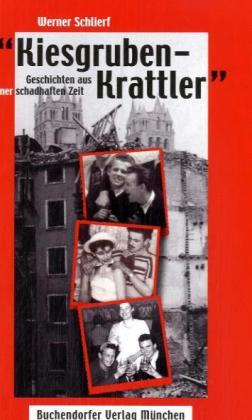 I once saw a wonderful theatre play by Werner Schlierf: "Chewing Gum & Chesterfield". In the late 1980ies, it was played with such passion in the gymnasium of MTV Munich in the Isarvorstadt by an amateur group that I went to see it several times.
When Christmas came, we actually invited all our employees and customers of then still InterFace Connection to come to the gymnasium and see the special performance given for us. It turned out to be one of our best Christmas parties.
Werner Schlierf also wrote books. His "Gravel Pit Gnome" is about the time directly after WW-II and the subsequent years. I discovered it in the "Sunday Extra" by Michael Skasa, who tackles a special topic each Sunday on the radio program of Bavaria-2 at 10 a.m. by reading a text and using suitable music. The program is always repeated at 5 p.m. on the same day. It is a program I warmly recommend to all of you.
On Sunday three weeks ago, the program was about the sixty-sixth anniversary of the German capitulation. There was also a story from the book by Werner Schlierf. I found it very impressive.
Consequently, I decided I would like to buy the book. Initially, I was out of luck – all the usual suspects on the internet were sold out. Then I found a library in France through "bookfinder", where I was able to buy it at a halfway reasonable price.
I already read some of the stories. And even though they all play a little before I was born, they all sound rather familiar to me. The aftermaths of the war certainly were felt for a long time.
The "Gravel Pit Gnome" times lasted until well into the 1960ies. We buried them in the infamous "Hank's Night Club" at Oberhausen or in the hardly better Pfersee "Playboy". In those music hovels, you would usually only find African-American GI-s of the US infantry. To this day, I mourn these special places of vice. They all had to close immediately when the US army left and the end of Augsburg as a garrison town had come.
Once in a while, you could also find a few adolescent Germans in those places. They had just learned to fly and risked being thrown out of school. It was us, wearing our nyltest shirts and trousers made of synthetic fibers purchased from C&A. Having grown up in the world of German bourgeousie, we marvelled at the alien life. And we cheated ourselves into the disreputable and strictly forbidden cesspit.
The air was palpable – it was a mixture of smoke and cheap perfume. The way the African-Americans danced to their music with all the dedication in the world was totally unknown to us. They wore jeans and T-shirts over perspiring torsos. They eyes gleamed, they wore funny hats on their bald heads. Narually blond girls as well as artificially blond ones of all age groups offered their services.
Perhaps even something like love occasionally grew. We witnessed brawls in front of the discotheques, brutal intervention by the MP, totally new varieties of gambling and sexual dependence and, last not least, men crying before they had to leave for Vietnam. Then there was the dawn, when they closed down on a Friday or Saturday morning at four a.m. and you came out into the fresh air with lungs full of smoke. And in summer time, there was the sunrise as you rode your bike home and getting caught by your parents as you tried to sneak into the parental flat.
We were the upright Mickies full of emotion and passion, but also full of fear and violence. And then everything was over very quickly: high school, graduation, university – and we ended up in modern society.
In the book, you can read about different episodes. It shows how it all began. The transition from misery to the economic miracle. But you also feel that, even during those "evil times" there was purpose to life. The same is true for our modern times – which are evil in a totally different way.
Well, I would recommend reading this book to everyone who can still remember those days. It is unbelievable. But be careful – reading this book might leave you sentimental and shocked..
RMD
(Translated by EG)
On the author:
Werner Schlierf, born on May, 17th, 1936 in Munich, died on March, 1st, 2007, also in Munich. He lived there through the war and occupation years. From 1960, he wrote poems, theatre plays and stories. His first book was published in 1963. He was awarded the "Bavarian Novel Price".